Updated
Best Galaxy S10e, S10, and S10+ cases: Top picks in every style
Protect your investment without hiding it.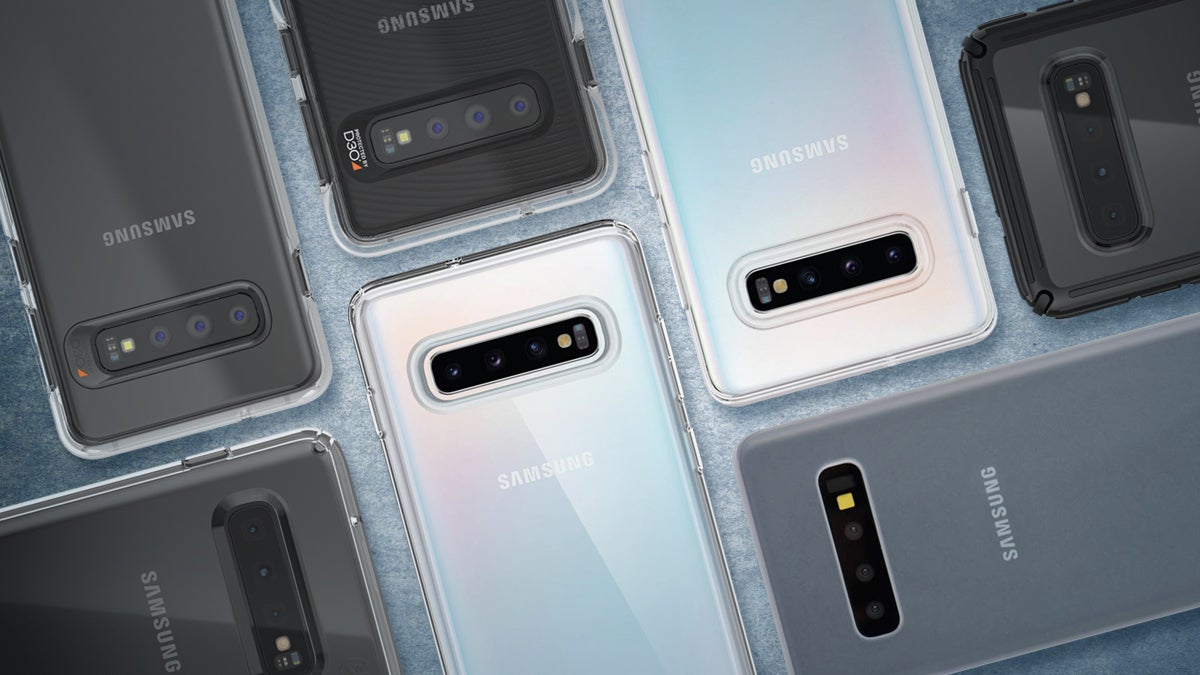 Aside from its great screen, ultra-fast processor, and awesome camera, the Samsung Galaxy S10 its also big, slippery, and fragile, and the last thing you want is a giant crack in it.  Here are our favorite cases for the S10 so far.
Update 3/22/19: Added new categories for best wallet cases and best rugged cases.
Beat clear cases for Galaxy S10, S10+, S10e
Along with super slim bezels and a gorgeous display, the Galaxy S10 has one more thing going for it: beautiful new colors to choose from. Available in new "prism" finishes that change color depending on the light, a flamingo pink that's too cool for school, and two luscious ceramic options, it's a shame to cover up your Galaxy S10 with a case. So here are some great ones that will still its natural color shine through:
Best rugged cases for Galaxy S10, S10+, S10e
When you want to ensure your Galaxy S10 will survive a major fall, only a rough, tough, and rugged case will do.
Otterbox Commuter
Why we love it: If you can't decide between a silicone case or a plastic one, the Commuter's two-layer approach might be right up your alley. The first layer is rubber and feels more like a silicone case, while the second layer adds some toughness with a polycarbonate shell. Both layers come apart in order to install on your phone, and look great together, with small cutouts that let the bottom layer peek through. Together, the two layers instill a confidence that your phone is protected including the headphone jack and charging port, which get their own protective flaps.
Price: $40
Colors: Black, pink, blue
Wireless charging: Yes
UAG Monarch Case
Why we love it: UAG cases always have a distinct look and feel with rugged protection, and the Monarch case for the S10 follows that tradition. The metal structure-like design on the back combines the five different layers that make up the Monarch case, ranging from leather to metal. The buttons on this case feel fine, but they're a little thin, and unfortunately your S10's Wireless PowerShare won't work once you strap it on (though wireless charging does).
Price: $60
Colors: Black, crimson, carbon fiber
Wireless charging: Yes
Best wallet cases for Galaxy S10, S10+, S10e
The S10 takes up a lot of room in a pocket, so these cases let you leave your wallet at home.
Otterbox Strada Series Leather Folio
Why we love it: We've seen more than our share of cases at PCWorld, but the Strada Series Folio is one of the slickest we've tested. With black or brown leather that wraps around the phone and a smooth finish to the polycarbonate shell, give this case a premium look and feel. Inside there's a pocket for a card or cash. I was able to get two cards in the case and it closed without issue, but a third wouldn't fit. A particularly nice touch is a strong magnet that holds the front flap closed for extra protection or attacks to the back of the case when it's open.
Price: $70
Colors: Black, brown
Wireless charging: Yes
Spigen Slim Armor CS
Why we love it: Spigen's cases are popular for two reasons: they're well-designed and affordably priced. With the Slim Armor CS, the company takes a minimal approach but adds a pocket on the back of the case to hold up to three credit cards. (Though we'd only recommend two cards as a third tends to make things a little tight.) And it looks good tool. The smooth exterior gives the Slim Armor CS somewhat of a slippery feel, but the rubberized sides make it easy to grip.
Price: $40
Colors: Black, gunmetal, rose gold
Wireless charging: Yes (though Spigen recommends removing the cards first)
SnakeHive Leather Wallet
Why we love it: If you're looking for all-over protection, the SnakeHive Wallet isn't for you, but if you want to keep your S10 free of dings and scratches and keep a couple of cards on hand, it might be. While the case offers fairly limited protection again falls, it wraps your S10 is luxurious suede, complete with visible stitches and a stamped logo on the inside flap. A magnet keeps the cover in place when closed, and the case doubles as a stand for watching movies. And three card slots open the inside will let you keep your wallet at home on fancy nights out.
Price: $40
Colors: Blue, green, brown, yellow, red, black
Wireless charging: Yes
Shop Tech Products at Amazon