Updated
Channels DVR review: This is a powerful DVR for cord-cutters, but it's also an expensive one
Attention to detail doesn't come cheap.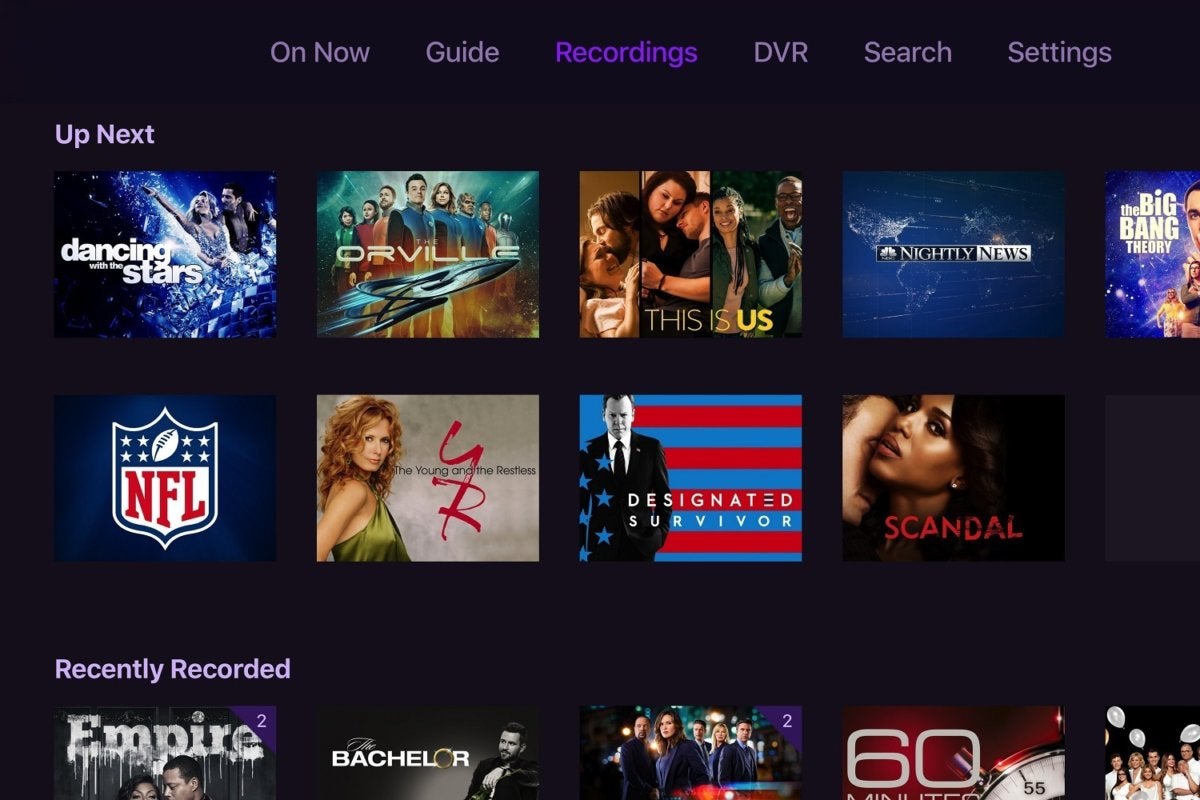 In some ways, Channels DVR is tough to recommend. The subscription cost is much greater than other over-the-air DVR options, the hardware requirements are more stringent, and even some basic features—such as conflict resolution—are absent.
Yet Channels DVR also has a few strengths to compensate for those weaknesses: Recording options are deeply customizable, video quality on Apple TV is superior to other cord-cutting DVRs, and you can easily skip through recorded commercial breaks with the press of a button. Channels also excels at some of the little things, including loading live channels quickly, stacking multiple tuners, and allowing series-based recordings for sports.
All of this helps make Channels one of the most capable cord-cutting replacements for a cable DVR such as TiVo—but only if you're willing to stomach the costs and a few lingering limitations.
How Channels DVR works
Channels DVR is similar to Plex and Emby in that it's a do-it-yourself solution that requires stringing together some disparate hardware components. These include a server device with ample storage, an HDHomeRun networked tuner, a compatible streaming TV device, and of course an over-the-air antenna. All of these components cost money, but how much you'll pay depends on your particular needs.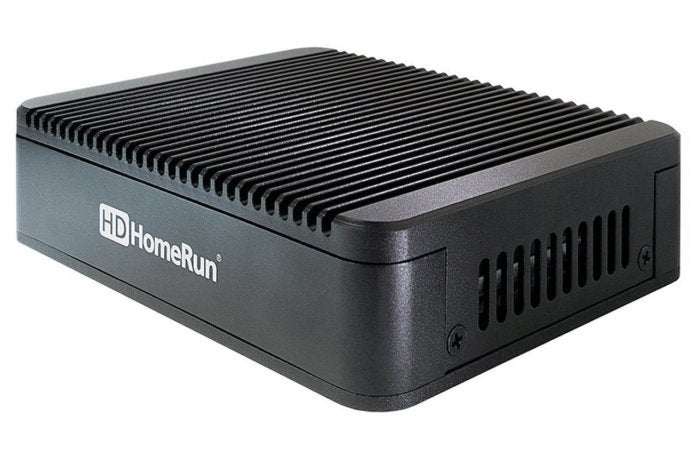 Channels' server software can run on a PC (Windows, Mac, or Linux), a variety of NAS boxes, and the Nvidia Shield TV. If you don't already own a desktop computer, WD's My Cloud NAS will be the cheapest standalone option, providing both storage and recording capabilities for $140. The Shield is a bit pricier at $180 (not including DVR storage) but also serves as your streaming TV box.
To capture live channels from an antenna, Channels uses SiliconDust's HDHomeRun networked tuners, which connect to a Wi-Fi router via ethernet cable for streaming video throughout the house. The HDHomeRun Connect costs $100, while the $180 Extend model adds built-in transcoding, which reduces the network bandwidth required to stream live TV. (Transcoding also shrinks the size of recorded video, but Channels' software can handle this on its own for Connect users.) Either tuner can watch and record up to two programs at once, but Channels can also combine the inputs from multiple tuners if you want to record more. For cable subscribers, Channels also works with HDHomeRun Prime, which uses a CableCARD to record unencrypted pay-TV channels, but certain DRM-encrypted channels will be off-limits.
You'll also need an Apple TV (fourth-generation or higher), Amazon Fire TV device, or Android TV device (such as the Shield) to actually watch live and recorded television. But unlike other DVR services, which provide free apps in exchange for a service fee, Channels charges a separate fee for each app—$25 apiece for TV devices, $15 for iOS—on top of its own $8-per-month subscription ($80 per year if paid annually). Channels doesn't offer a discounted lifetime service option. (You can use Channels' apps without a subscription, but only for live TV.)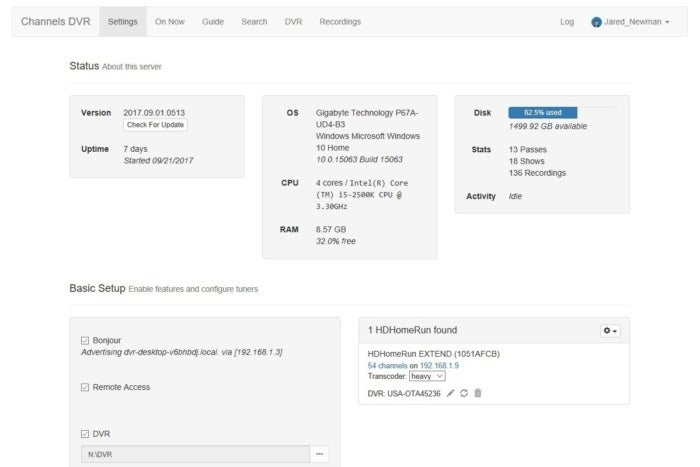 Slick software (with a few missing features)
Channels does get much simpler once everything's in place. After installing the server software, a browser-based tool lets you scan for channels, specify a DVR storage location, and adjust advanced settings such as transcode quality and tuner priority. You can then manage recordings through the web tool, an iOS device, or your TV apps.
The software provides plenty of control over how those recordings behave. Using Channels' web app, you can set default buffer times for recordings and choose how many recent or already-watched recordings to keep. You can also set those options on a per-show basis on any device. Channels even supports series passes for sports teams, which is handy for when your favorite football is playing on Sunday or Thursday night.
Out-of-home viewing is supported as well, both from the web app and on streaming TV devices, though Channels had trouble detecting my router to set this up automatically. I had to muck around with my router's port-forwarding settings to get it working, but had no trouble streaming over a cellular data connection after that.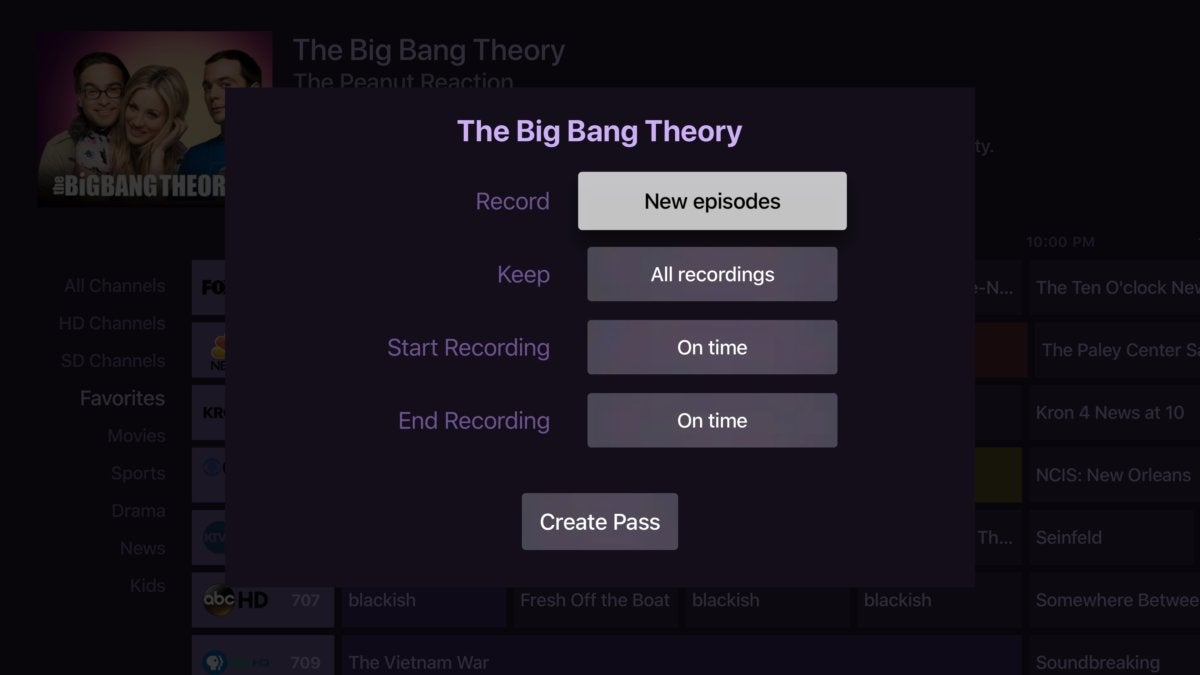 Channels is still missing a few options that would give you even more control. You can't filter out recordings from low-resolution channels, for instance, and Channels' TV apps don't currently offer a way to browse upcoming programs. For that, you'll need to go back to the web app. (Developer Fancy Bits says it's working on a rich browsing tool that will work across all devices, but it's not available yet.)
There's also no way to easily manage recording conflicts. Although you can prioritize programs so that your favorites don't get passed over, Channels provides no warnings when you've overbooked the DVR. To weed out conflicts, you must manually scroll through the recording schedule, looking for instances of overlap in each time slot.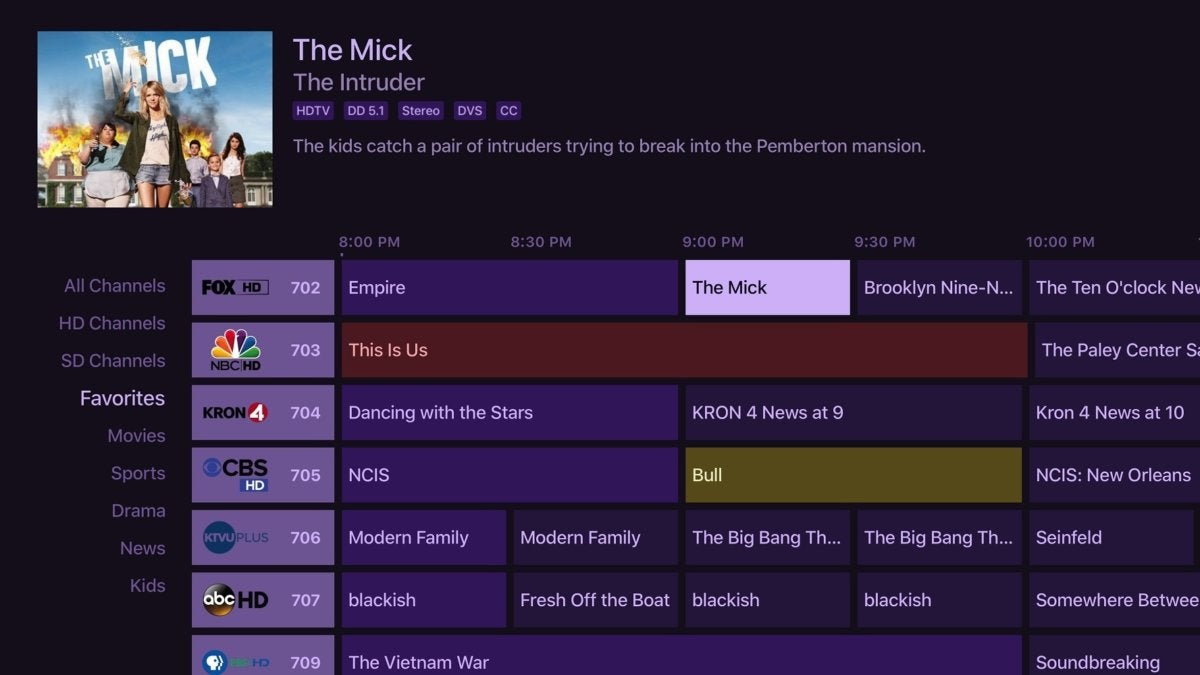 The viewing experience
Channels DVR shines when it comes to actually watching TV.
For live television, there's a grid-based channel guide that lets you filter channels by genre, see just your favorite channels, or view only the ones in HD resolution. And while you can't browse every channel while live TV is playing in the background, you can bring up a mini-guide for flipping between favorites.
For recordings, Channels lets you customize how much time gets skipped when you hit fast forward or rewind. More importantly, it offers an ad skipper for any recording that's no longer in progress.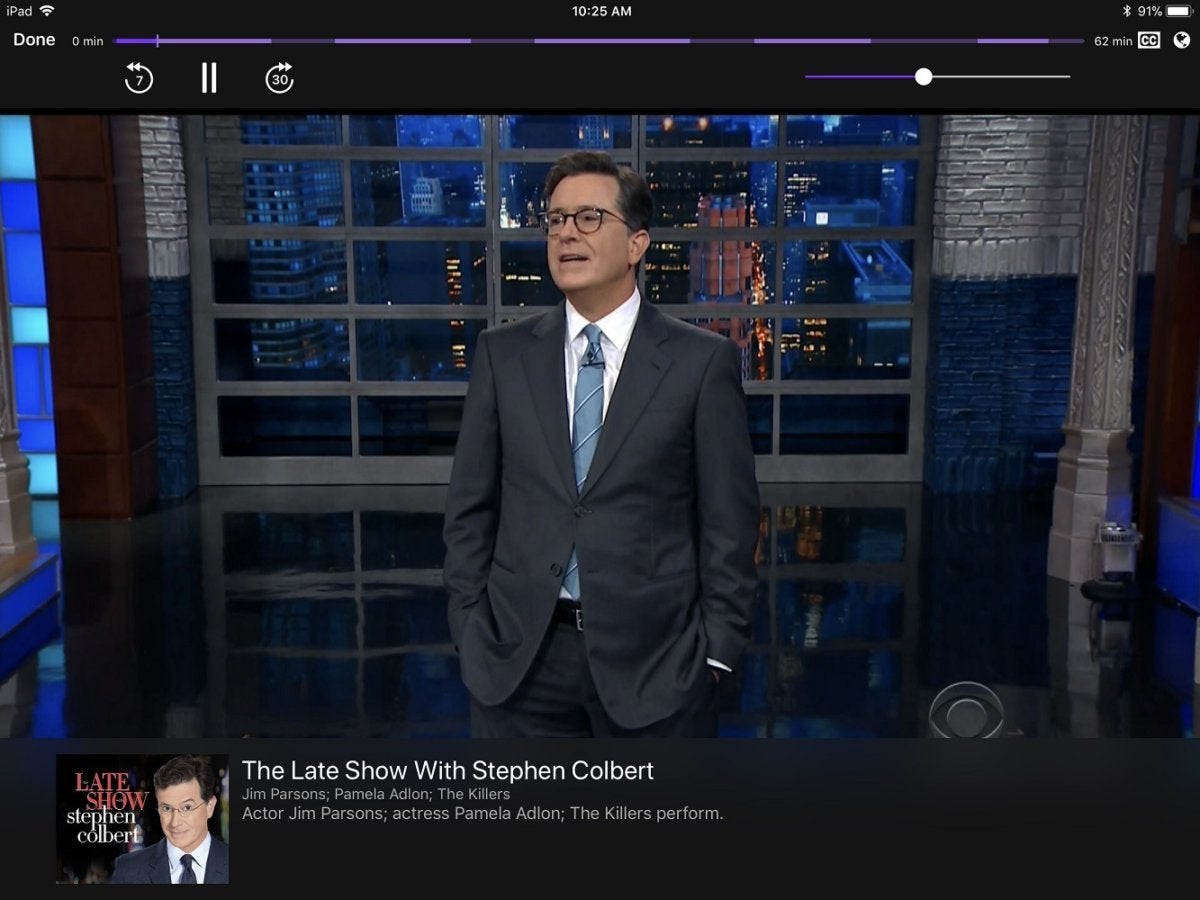 Unlike Plex's ad-skipping function, Channels doesn't actually remove commercials from recordings. Instead, it analyzes the video for commercial breaks, then shows them as dark lines in the video progress bar. When a break arrives, you can double-tap the remote's right button to jump directly to the end of the commercials. While this approach means you'll have to keep the remote handy, it also avoids any risk of missing any actual programming if ad detection fails. In any case, the feature feels like magic, especially if you haven't used a TiVo or other ad-skipping DVR before. (It also illuminates how many ad breaks get stuffed into some broadcast programs.)
Channels also deserves praise for the way it handles video playback on an Apple TV. Instead of using Apple's standard video player, the developers of Channels built a custom one, which can de-interlace 480i and 1080i channels for 60-frames-per-second playback. This makes live sports, news, and talk shows look much smoother, like they would with a direct antenna connection. No other DVR or networked tuner offers this feature on Apple TV. (Channels also supports 60-frames-per-second video on Android TV devices such as the Nvidia Shield, as Plex does, because Google's player has a built-in deinterlacer. Unfortunately, Channels couldn't extend this capability to Fire TV devices, because they're just not powerful enough.)
Between the stellar video quality, surround-sound support, ad-skipping, grid-guide, and a plethora of recording options, Channels could be a great option for cord-cutters who want all the creature comforts of a traditional DVR. But the costs—both up front and ongoing—are considerably higher than other over-the-air DVR solutions, setup is a bit daunting, and limited device support still leaves out Roku players, game consoles, and most smart TVs.
As a result, Tablo's Dual Lite is still the simplest over-the-air DVR, and Plex is still the best option for power users. But for a certain breed of cord-cutter—perhaps those who've invested in Apple TV and value native broadcast quality video above all else—Channels just might be worth paying for.
This review was updated in its entirety on September 14, 2018, although the reviewer's bottom-line score did not change.
This story, "Channels DVR review: This is a powerful DVR for cord-cutters, but it's also an expensive one" was originally published by TechHive.
At a Glance
Fancy Bits Channels DVR

Channels could be the best DVR for Apple TV owners, but it needs a few more features to get there.

Pros

Easy ad-skipping
Loads of recording options and handy features such as tuner stacking
Pristine video quality on Apple TV and Android TV

Cons

Apps and service are much more expensive than other over-the-air DVRs
No easy way to resolve recording conflicts
Complex setup involves many disparate components
Shop Tech Products at Amazon