Updated
The best laptops: Premium laptops, budget laptops, 2-in-1s, and more
Our top picks feature the best tech advances in portable PCs, from new CPUs and GPUs to new materials.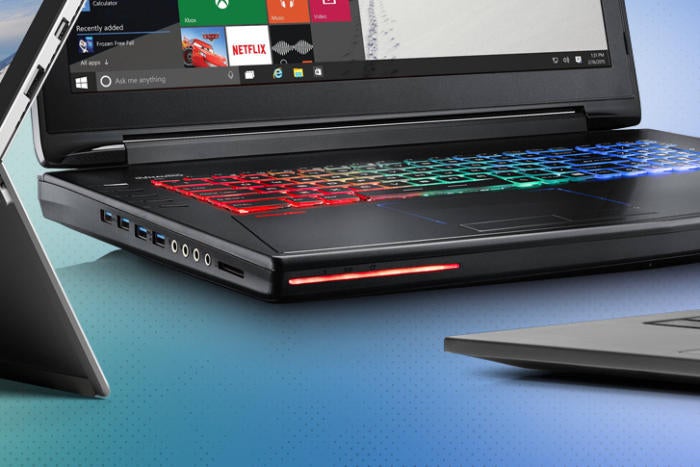 The best laptops of 2020 are experiencing a seismic shift. With the near-simultaneous launches of AMD's Ryzen 4000 and Intel's Comet Lake-H mobile CPUs, we have a real fight for the first time ever: Ryzen 4000's cores vs. Intel's clock speeds. At the same time, a lot of mainstream users stand to get good deals on laptops for home or work-from-home use, with existing processors that already have solid performance and great battery life.
On the gaming side (where the GPU matters more than the CPU), Nvidia has unveiled a new generation of mobile graphics technologies. Check out the latest news and reviews below. 
Laptop buyer's cheat sheet
Our quick-hit recommendations
Latest laptop news and reviews
Laptop news and reviews are heating up, because of new AMD and Intel mobile CPUs coming soon. Here's the latest. 
Alienware crushed a lot of dreams on Wednesday when it introduced the Area-51m R2 mega-gaming laptop, because its design confirmed that the predecessor, the Area-51m R1, would not be upgradable with parts from the latest generation. If Alienware can't do it, then probably no one will.  
HP's Elite Dragonfly is already our favorite luxury laptop, and we just tried a special feature only it offers (for now): an integrated Tile tracker. Did you leave it in another room, or the cafe you just left? The Tile tracker will help you find out. 
We've just reviewed the Surface Book 3, the flagship product leading Microsoft's new wave of Surface products. Microsoft worked hard to address the Surface Book thermal issues (which don't seem to be a problem with the new version). We've also reviewed the affordable Surface Go 2 tablet. Just don't hold your breath for the dual-screen Surface Neo, which Microsoft is delaying indefinitely.
The Ryzen 4000 onslaught continues. It started when the first Ryzen 4000 CPU debuted in the Asus ROG Zephyrus G14, which at 3.5 pounds outpaced gaming laptops weighing two to three times as much. We've now seen the Ryzen 7 4700U in the Acer Swift 3, and this budget $650 laptop is screaming past bigger, pricier models. Unfortunately you might have a hard time finding it, as buyers are snatching it up.
Intel is firing back with Comet Lake-H, a mobile CPU that emphasizes clock speeds over cores. We're not sure this will be enough to hold back the Ryzen horde, but we'll see when we have a chance to test it. 

Asus

The Asus ROG Zephyrus G14 was the first laptop out of the gate with AMD's Ryzen 9 4900HS mobile CPU.

Nvidia is making things even more interesting with its long-awaited GeForce RTX Super GPUs, improvements to its more power-efficient Max-Q line, and price drops. Discrete GPUs in thinner, lighter, and faster gaming laptops? Yes please!
Laptops that debuted simultaneously with new Intel and Nvidia parts included: the Acer Predator Triton 500, the Gigabyte Aero and Aorus lines, the Lenovo Legion 5i and 7i lines, the MSI Creator 17, and the Razer Blade 15. 
Best thin-and-light laptop
It's official: You can have both performance and light weight in the same laptop, and Dell's new XPS 13 7390 is here to prove it. With its 6-core Intel Core i7-10710U CPU, this thin, light machine (available via Dell.com) has actually outpaced bigger workhorse models.
And no, before we get you too worked up: The XPS 13 7390 and its Comet Lake-U CPU aren't going to outpace a current workstation with, say, a smoking-fast, state-of-the-art Core i7-9750H. But it is the first ultraportable laptop to actually outrun older 7th-gen "H"-class CPUs in heavier laptops, including those in its XPS 15 cousins.
The amount of performance in this amount of portability was simply unheard of just, well, earlier this year. Read our full review. 
[$1,620 as tested; available on Dell.com]
Best laptop under $500
The Motile M142 14-inch notebook PC may be the best budget laptop you've never heard of, by a company that understands low prices. That's because the Motile M142 is Walmart's house brand, and it's one that the retailer itself often passes over to promote brand-name PCs. 
Yes, the M142 cuts some corners. At about 6.5 hours, its battery life is comparatively poor. The screen is somewhat dim, and lacks touchscreen capabilities. Given the price, however, it's a laptop we wouldn't mind recommending to friends and family with tight budgets. Read our full review.
Best 14-inch/15-inch workhorse
The Lenovo Yoga C940 15 is a workhorse laptop with a bit extra compared to the Dell XPS 15 or the MacBook Pro. Sure, it looks sharp and has a bright display, but it also has a touchscreen that flips around into tablet mode, a built-in stylus for writing or sketching, and—thank heavens—a full-sized USB-A port to complement its two USB-C connections. It even fits in a number pad without cramping its excellent keyboard. While screen backlighting is a bit uneven and audio quality could be better, it's a solid choice for those who want a luxurious workhorse PC. Read our full review.
[$1,700 at time of review on Bestbuy.com. Other configurations available on Lenovo.com.
Best convertible laptop
HP's latest Spectre x360 13t has something to say to other thin-and-light laptops, which, it seems, are all about taking good things away from you. Where others say No, the HP Spectre x360 13t simply says Yes. You want a standard M.2 SSD? Got it, the Spectre x360 13t says. NBA-level of travel in your keys? Sure thing. USB Type-A port?! Of course the Spectre x360 13t has that, too. When we head-to-head compared the HP Spectre x360 13t to the Dell XPS 13 2-in-1 7390, another leading convertible, the HP came out on top. Read our full review.
Runner-up
Dell's Latitude 7400 2-in-1 (available via Dell.com) is a 14-inch business laptop that delivers all-day battery life and performance. It achieves a simply incredible 18 hours of battery life using a powerful Intel 8th-gen Whiskey Lake processor, and it offers a full complement of ports plus a slightly gimmicky feature called ExpressSign-in (yes, it's really spelled that way). While our review unit clocked in at a whopping $2,800, the starting price is $1,599, meaning you could make prudent downgrades to the configuration to fit your budget. Read our full review.
Best budget convertible laptop
The Lenovo Yoga C740-15IML (currently $790 on Lenovo.com) is one of the most impressive 2-in-1 laptops we've seen in its price range. Weighing in at just three pounds and jammed with nifty features, the slim, sturdily built, Yoga C740 packs in plenty of productivity pep, and it can last the whole day without its AC adapter. A bright, Dolby Vision-enabled display plus Dolby Atmos sound provide plenty of eye and ear candy. A physical camera shutter (which, unfortunately, is a little tough to slide open and closed) and a fingerprint reader help to bolster security.
In a world where high-end laptops no one can afford get all the attention, and budget laptops can be a bucket of compromises, it's nice to see a mid-priced laptop that has so much going for it. The Lenovo Yoga C740 easily earns our Editor's Choice award and our top pick for budget convertibles.
[$900 MSRP; $790 as reviewed]
Best 2-in-1 / tablet / hybrid laptop
This category originally started out as the best "Surface" category because, well, for a time, there was nothing like Microsoft's 2-in-1 / tablet / hybrid device. Competitors picked up the pace, and the Lenovo Miix 520reigned for over a year. No longer.
The Surface Pro 7 represents Microsoft's return to form, both with an up-to-date 10th-gen "Ice Lake" processor inside, but also a tweaked, modernized design that recognizes that USB-C is the wave of the future. Some legacy ports have disappeared (adios, MiniDisplayPort) but otherwise Microsoft's tablet retains its traditional light weight and form factor. Sadly, a pen and Signature Type Cover are still extra. Read our full review for more details. 
[$1,499 SRP as reviewed, excluding keyboard and pen; currently $1,199 on Microsoft.comRemove non-product link]
Keep reading for our top picks in gaming laptops and more.
Shop Tech Products at Amazon