Updated
The best laptops: Premium laptops, cheap laptops, 2-in-1s, and more
Our top picks feature the best tech advances in portable PCs, from new CPUs and GPUs to new materials.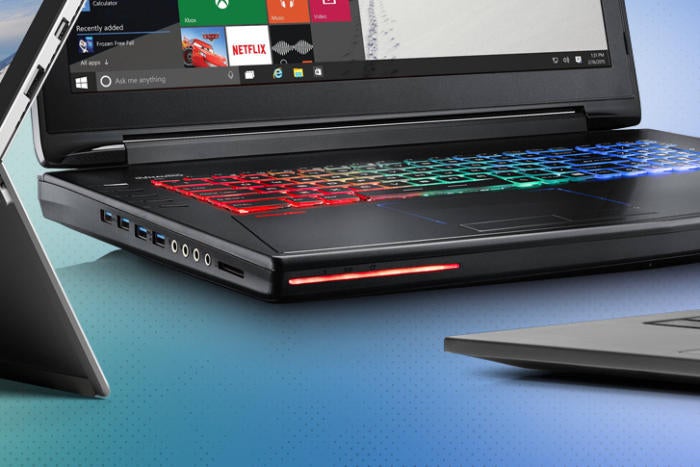 The laptop world is a-changing. New CPUs and GPUs—yes, mobile discrete GPUs—are bringing forth laptops that are thinner, lighter, and faster than ever, even gaming laptops. And the advances keep coming: We first glimpsed Intel's 10th-generation, 10nm laptop CPU first in Taipei at Computex, and we just got our first 10th-gen  benchmarks as it rolls out officially. It will coexist with the 9th generation of Core mobile processors, and mobile GeForce GTX 1650 and 1660 Ti graphics. Stay tuned for new models we bring in for review. 
Updated 11/07/2019: Some of the latest laptops we've tested are some of the best we've seen. Dell's new XPS 13 7390, with its 6-core Intel Core i7-10710U CPU, has actually outpaced bigger workhorse models—and it's our new top pick for best thin-and-light. Google's Pixelbook Go (available via Google.com) is arguably the company's best Chromebook yet, providing a high-quality laptop for a pretty reasonable price. Read our review. Dell's XPS 13 2-in-1 (available via Dell.com) gets our nod for best convertible. It would be interesting if only for its spanking-new Ice Lake CPU, but it's also amazingly tiny and awesomely fast. Read our review. Acer's Swift 3 (2019) (available via Amazon) combines an 8th-gen Whiskey Lake chip plus a discrete Nvidia GeForce MX150 GPU, for light gaming without breaking the bank. Read our review. 
Laptop buyer's cheat sheet
Our quick-hit recommendations
Latest laptop news
Here's all the Surface news from Microsoft's October 2 event in New York: 
The Surface Pro X, a completely new 2-in-1 running on the custom-built SQ1 chip, a collaboration between Microsoft and Qualcomm. It has a huge screen for its size, a new Slim Pen that nestles in a keyboard dock, and the promise of long battery life. Read Mark Hachman's hands-on with the Surface Pro X for his initial take. 
The Surface Laptop 3 branches out, offering a new 15-inch version along with the 13-inch one. The bigger model also offers AMD Ryzen processors in the consumer model (though it sticks with Intel for the corporate version). What everyone will appreciate is the new design, with sleek aluminum and impressively light weight. For more details, read Mark Hachman's hands-on with the Surface Laptop 3. Also, Gordon Mah Ung digs a bit deeper into the custom Ryzen Surface Edition chip in the Surface Laptop 3.

Mark Hachman / IDG

Microsoft's Surface Laptop 3 debuts with a stunning aluminum chassis (the earlier Alcantara fabric covering also remains available). 

The Surface Pro 7, essentially an incremental upgrade of an established and successful product, but the changes are important: Intel's latest Ice Lake 10th-gen CPUs, and USB-C. Mark Hachman went hands-on with the Surface Pro 7 at the New York event, and this is his story. 
Latest laptop reviews
Catch up on the latest models we've tested here, including: 
Best thin-and-light laptop
It's official: You can have both performance and light weight in the same laptop, and Dell's new XPS 13 7390 is here to prove it. With its 6-core Intel Core i7-10710U CPU, this thin, light machine (available via Dell.com) has actually outpaced bigger workhorse models.
And no, before we get you too worked up: The XPS 13 7390 and its Comet Lake-U CPU aren't going to outpace a current workstation with, say, a smoking-fast, state-of-the-art Core i7-9750H. But it is the first ultraportable laptop to actually outrun older 7th-gen "H"-class CPUs in heavier laptops, including those in its XPS 15 cousins.
The amount of performance in this amount of portability was simply unheard of just, well, earlier this year. Read our full review. 
[$1,620 as tested; available on Dell.com]
Best laptop under $500
If you're looking for an inexpensive quad-core laptop that's less than three-quarters of an inch thick, the Acer Aspire 5 A515-54-51DJ might fit the bill. This slim laptop packs in more than enough power for everyday computing tasks, and its quad-core performance is respectable, if shy of awe-inspiring. A fingerprint reader and nearly all-day battery life will appeal to productivity-minded road warriors, although they'll have to settle for a display that's on the dim side. Read our full review.
Best 14-inch/15-inch workhorse
Workhorse laptops need to have enough CPU performance and screen real estate to keep you productive, plus good battery life and portability for long days on the road. Dell's XPS 15 9570 (available on Amazon) sets the standard: It's thin but packed with features, fairly light, and its 6-core Core i7 will keep up with you all day. So will the 97-Whr battery life, which lasted a whopping 14 hours in our video rundown test.
The much-lauded XPS design hasn't actually changed much from prior generations—why mess with near-perfection?—but one highlight is an honest-to-goodness fingerprint reader. Read our full review.
[$1,666.69 at time of review on Amazon. Also available, of course, on Dell.comRemove non-product link]
Runner-up
The Lenovo ThinkPad X1 Extreme (available from Lenovo) come in a close second to the XPS 15 9570. It packs a six-core Core i7-8850H, GeForce GTX 1050 Ti Max-Q GPU, and a 15.6-inch 4K screen into a package that's a scant four pounds—a full half-pound lighter than a similarly configured XPS 15 9570. That's pretty awesome. Unfortunately because it's slightly slower than Dell's XPS 9570, and pricier than comparable laptops, it misses the top spot. Corporate types may actually prefer it nonetheless because of its vPro-capable Core i7-8850H CPU and other IT-minded perks—and have a fat budget to absorb the premium. Read our full review.
$1,395 to $3,727 ($3,149 as tested.)
Best convertible laptop
Call the Dell XPS 13 2-in-1 the triple threat. It offers awesome performance in an amazingly tiny package (and it's convertible, too). It's also one of the first laptops to sport Intel's new 10th-gen Ice Lake Core i7-1065G7, based on a new 10nm process technology. 
The XPS 13 2-in-1 also has a few features that are likely to steam up some fans. That potential drama aside, this laptop is just about perfect. Read our full review.
Best budget convertible laptop
For years, Asus has offered great value in its notebooks, and the ZenBook Flip (available at Amazon) is a strong example of its affordable, high-performing offerings. For $700, you get a fully convertible notebook that can handle everyday tasks with ease.
In fact, its pricing and specs are virtually identical to our favorite budget ultrabook, the Asus UX305 (now discontinued). Inside you get a Core m3-6Y30, 8GB of RAM, and a 256GB SSD, and outside there's a 1920x1080 IPS screen with an anti-glare finish.
Yet despite the modest CPU, the Asus ZenBook Flip is fairly peppy. In our benchmarks, it actually outperformed faster (and newer) Core m5 and m7 processors in rival machines during short CPU-intensive tasks. Its storage drive is no slouch, either.
This laptop is slender and lightweight, too. It measures 0.54 inches thick and 2.8 pounds, which keeps it in line with more expensive ultraportables. You're not saddled with chunkier dimensions or extra weight in exchange for a lower price.
A couple of compromises do exist: There's no backlighting on the keyboard, and the trackpad is a tad springy. Still, it's a good deal in a price range that usually nets you thick, ugly, and plastic.
[$699 MSRP (256GB model); $749 MSRP (512GB model) as reviewed]
Best 2-in-1 / tablet / hybrid laptop
This category originally started out as the best "Surface" category because, well, for a time, there was nothing like Microsoft's 2-in-1 / tablet / hybrid device.
The best Surface-like device isn't built by Microsoft anymore, though. Instead, our pick for our top 2-in-1 / tablet / hybrid is Lenovo's IdeaPad Miix 520 (currently about $876 on Amazon.) Besides being almost affordable, the Miix 520 wowed us because of its 8th generation Core i5 CPU. Yup: That's a real quad-core CPU in a Surface-like device. Take that, iPad Pro.
If you're turning your nose up at the Miix 520 because it's "only" a Core i5, just know that in multi-threaded CPU-bound tests, you're looking at a 36-percent increase in performance over a high-end Core i7 Surface Pro.
So yeah, if you thought there was no way you could do CPU-heavy tasks on a Surface clone, you can. There's a price to be paid for that but you'll have to read our review for those details.
[$999 SRP as reviewed with included keyboard cover and pen]
Runner-up
Samsung's follow-up to its first 2-in-1 (available at Amazon) doesn't take any extreme turns off the established path. It's still incredibly thin and lightweight, and it offers an even more stunning AMOLED screen that supports HDR.
But it's still not quite our favorite convertible, and that's partially due to Samsung's decision to sell both a small and a big version of the Galaxy Book. The more affordable, lower-power Core m3 model has a smaller 10.6-inch screen. If you want a 12-inch screen, you'll have to jump to a starting price of $1,130.
Despite these two tougher choices, the Galaxy Book is still compelling. It offers solid performance (including over 10 hours of video playback on the 12-inch Core i5 model) and addresses some of our complaints with the Galaxy TabPro S. You now get two USB-C ports, and the keyboard secures tightly to the tablet. And of course, it has that gorgeous display.
So while it may no longer have a huge advantage in price, Samsung still manages to hold its own with a few compelling features. Particularly the included pen—Microsoft's equivalent accessory is a $100 optional purchase.
[$630 or $1,130 MSRP base price; $1,300 MSRP as reviewed]
Keep reading for our top picks in gaming laptops and more.