People are still lining up to snag a brand new iPhone 7, but that won't stop anyone from speculating about next year's iPhone. Why so early? Well, 2017 marks the iPhone's 10th birthday, so Apple is reportedly gearing up to make its anniversary edition extra special.
We'll keep track of the latest rumors and how plausible they are, and we'll put them in one spot (this one!) so you can bookmark this link and just pop on over when you want to read the latest.
If you passed on the iPhone 7 to wait for the iPhone 8—or whatever name Apple decides to use—it sounds like next year's phone could be the design refresh you were waiting for. Just don't expect the headphone jack to return.
What's the latest?
The rumor: Reports that Apple has three new iPhones in the works for 2017: iterative iPhone 7s and 7s Plus updates and a completely redesigned all-glass iPhone 8. Conflicting rumors have different features in each phone, but here's a new one: The 7s and 7s Plus will come in a brand new crimson color. According to Japanese Apple-centric site Macotakara, the S-model phones will be available in red in addition to the standard black, jet black, rose gold, gold, and silver.
Plausible? Could be. Macotakara has a decent track record with Apple product rumors, predicting the phase-out of the iPhone headphone jack ahead of the pack. The blog cites Taiwanese suppliers who also say the 7s and 7s Plus will look the same as the 7 and 7 Plus, though KGI Securities says the opposite: that each of the 2017 models will be all-glass and have wireless charging.
Wireless charging?
The rumor: We're beginning to hear corroborations of earlier rumors. KGI Securities analyst Ming-Chi Kuo is doubling-down on his prediction that the 2017 iPhone will have all-glass casing. According to Kuo, Apple is switching to glass in order to facilitate wireless charging. Even though some metal and plastic smartphones have wireless charging, using glass is faster and there are fewer frequency disruptions.
Good news: Kuo now expects Apple to put wireless charging in all of its 2017 iPhones, including the next-generation 4.7-inch and 5.5-inch versions of the 7 and 7 Plus. Apple could decide to limit the feature to its anticipated 5.8-inch bezel-less iPhone 8, but with the 7s and 7s Plus expected to be remade with all-glass casing, the addition of wireless charging might encourage more people to upgrade.
Kuo is counting on it. According to supply chain rumors, more iPhones are expected to be produced in the latter half of 2017 than ever before. Suppliers are reportedly getting ready to churn out 120-150 million iPhones, beating out the 110-120 million iPhone 6 models produced in late 2014.
Plausible? Yes. The addition of wireless charging was one of the first reliable rumors we heard about the forthcoming iPhone 8, and we'll undoubtedly keep hearing about it until the device is released next year. If Apple is really committed to wireless charging, then switching to an all-glass casing also makes sense. It explains why Apple would choose to switch to glass in the first place. While the smaller iPhones might lack OLED due to production constraints, putting wireless charging in each model would go a long way toward making the next iPhone a must-buy.
A curved screen?
The rumor: The iPhone 8 could have a curved screen, meaning that it bends slightly around the edges. According to The Wall Street Journal, Apple is asking suppliers to created prototypes with curved OLED displays that have a higher resolution that Samsung phones. An iPhone with a OLED display will most likely be a more expensive, higher-end model. In addition, Apple is testing over 10 prototypes for the forthcoming device, which is speculated to include "radical" new features to mark the iPhone's 10th year anniversary in 2017.
Plausible? We've already heard that Apple is looking into finally bringing OLED displays to its iPhone line. And it makes sense that the OLED display would be reserved for a higher-end iPhone model, since these screens are more expensive to manufacture. With declining iPhone sales, there's a lot of pressure surrounding the launch of the iPhone 8. So, it's also not surprising that Apple is allegedly testing several prototypes to deliver a "revolutionary" iPhone next year. 
Folds like a book?
The rumor: You may be able to bend the next iPhone, similar to how you fold to close a book. Apple has just been granted a patent for a book-like iPhone design that used an OLED display that can fold in half.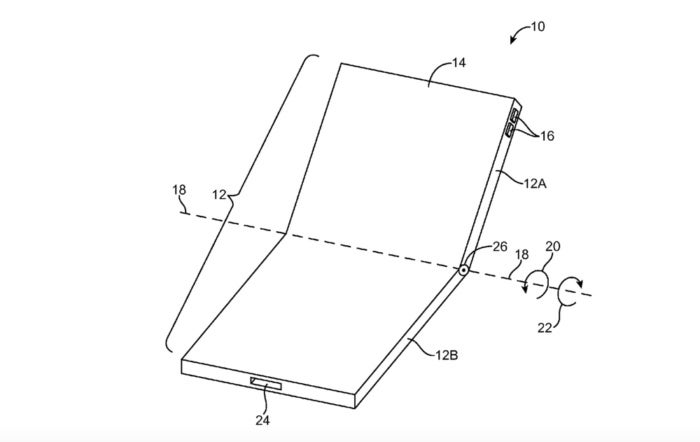 Plausible? Just because Apple has the patent for this, doesn't necessarily mean that it will become a real product. Besides, Apple has just started to consider using OLED, so there may not be enough time to incorporate a bendable, foldable display on the iPhone 8.
3 new models?
The rumor: Apple will launch three models of the iPhone 8 in 2017, according to a new report from KGI Securities analysts. One model will sport a 5.5-inch OLED screen and a dual camera. One will have a 5.5-inch LCD screen, also with a dual camera. The third will be a 4.7-inch iPhone with an LCD screen and a single camera system, much like the current iPhone 7 model. 
Plausible? KGI Securities is usually spot-on when it comes to iPhone hardware predictions, and for a while these supply chain analysts have been predicting that Apple will switch to OLED displays in 2017. Apple has already been using OLED displays on the Apple Watch and the MacBook Pro's Touch Bar, so using this type of display on the iPhone seems like a logical next step. Previously, Bloomberg reported that Apple is in talks with Sharp to be its OLED display supplier.
OLED offers a lot of benefits over LCD. Besides being more responsive, OLED gives Apple the option to create a bezel-less iPhone with a curved or bendable display, which would certainly boost the iPhone 8's wow-factor. This time around, the iPhone 8 is rumored to be "revolutionary."
Return to all-glass?
The rumor: Apple may take a page from its own book and release an iPhone 8 with a glass front and back, similar to the iPhone 4 and 4s. The iPhone 8 and 8 Plus will, of course, be larger than those models, which were 3.5 inches. KGI Securities analyst Ming-Chi Kuo, who always has deep insight into Apple's supply chain, predicted that Apple will make lower-priced models with aluminum casing and more expensive versions with stainless steel. The glass would give the phone a glossy look, like the popular jet black iPhone 7, but be less prone to knicks and scratches than the brushed aluminum.
Plausible? Yes. It's all about the sourcing: KGI's Ming-Chi Kuo is typically spot-on when it comes to Apple hardware changes. It's possible that Apple is basing future design decisions on the success of the jet black iPhone 7, which is currently sold out through December. According to the KGI report, 30–35 percent of preorders were for the jet black model worldwide, and in China that percentage was higher—45–50 percent.
An OLED display at last?
The rumor: So far, Apple has held on to LCD displays, which isn't a bad thing—the LCD display on the iPhone 7 is just as good as the competition's OLED screens. But Apple is reportedly in talks with Sharp to be one of its main suppliers of OLED displays to use in next year's iPhones. According to Bloomberg, Apple wants to diversify its OLED sourcing so it has multiple options. Sharp is investing $566 million in OLED production factories which will start churning out displays by next June.
Plausible? Yep. The future is OLED, because the technology is more flexible than LCD and would allow Apple to make the iPhone bezel razor-thin and move the home button to the display itself. There are other applications made possible by switching to OLED screens, and we're sure Apple is exploring those for a future phone.
This story, "iPhone 8 rumors: No wireless charging but 7s and 7s Plus will come in red" was originally published by Macworld.