The best Apple TV gamepads available today—and the rest, too
We test out eight MFi gamepads to find which are the best options right now.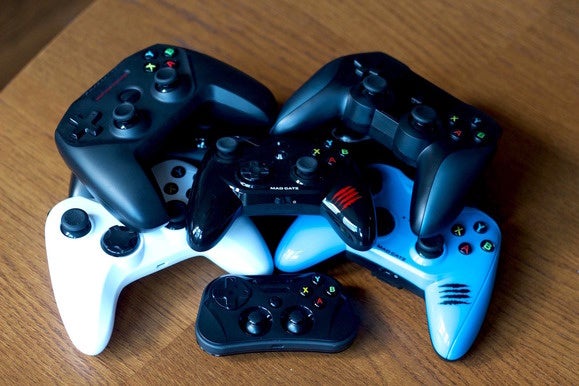 As we discovered in our early days gaming on the new Apple TV, a gamepad strongly benefits the play experience, since the Siri Remote has its limitations. And it's not just for hardcore players: Having analog sticks and a traditional button layout makes a lot of casual games more comfortable and playable, as well. Having a gamepad also comes in handy if you play games on the iPad or iPhone, too.
Luckily, there are options. Two new pads—the SteelSeries Nimbus and Hori Horipad Ultimate—have been released specifically for the Apple TV, but also work with iOS, as well. And the older MFi (Made for iOS) controllers that connect over Bluetooth work just fine with the Apple TV. 
So we wrapped our digits around eight of the most notable Apple TV and iOS gamepads to let you know the differences between them, the strengths and weaknesses of each, and which are most deserving of your gaming dollars. 
The best
SteelSeries Nimbus: We were pretty high on the $50 Nimbus when it shipped alongside the Apple TV, and that opinion hasn't diminished with a few more weeks of testing. It's a strong gamepad in every way: It feels great in the hand, with a full-figured shape that fills your palms. The build will feel familiar to anyone who has wielded an Xbox One controller, although the parallel analog sticks are more like a PlayStation gamepad. In any case, the sticks, buttons, and d-pad are all nicely responsive.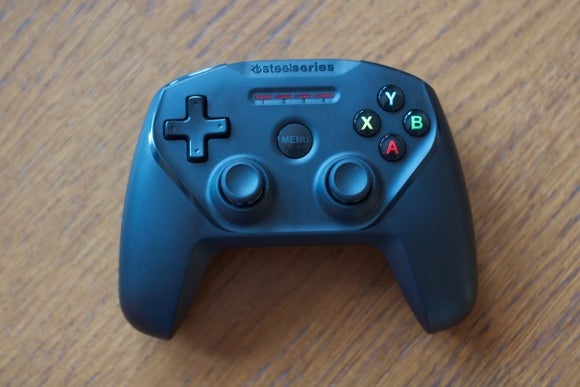 The Nimbus is the first MFi controller that really gets everything right, including Lightning charging for the 40-hour battery and the price tag: $50 is spot on for a gamepad of this quality, and that's a fair bit cheaper than competitors released just a year prior. And if you're remotely interested in Disney Infinity 3.0—the Star Wars toys-to-life game that also features Marvel and Disney/Pixar heroes—that $100 bundle also includes the Nimbus.
While we have a couple more awesome gamepad picks profiled below, the Nimbus is surely the best MFi gamepad option for Apple TV or iOS today. You might find sleeker-looking controllers on the current console systems, but the Nimbus has it where it counts, and it's highly recommended.
Mad Catz Micro C.T.R.L.i: If you're looking for something a bit more compact and portable, the $50 Mad Catz Micro C.T.R.L.i is our next favorite. It was released about a year ago, so it doesn't have a Home button for the Apple TV, but it works just fine: The pause button accomplishes the same task. Also, don't confuse this one with the full-sized C.T.R.L.i (profiled below)—the Micro is a tiny little guy.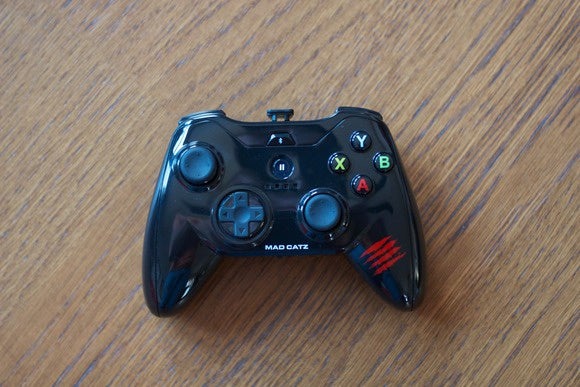 Like, really tiny: If you have large hands, the Micro C.T.R.L.i might be out of the question for you, but there are benefits here: It's a good pick to stash into a bag when traveling with an iPad, plus it has a removable clip that lets you attach an iPhone to the top. While still connected via Bluetooth, that gives you a DIY portable gaming system of sorts, and then you can pull off the clip when playing on the iPad or Apple TV. 
And crucially, it nails the fundamentals: The buttons and Xbox-like asymmetrical sticks feel good and respond well, and thankfully, the d-pad is on point as well. If you dig the smaller size, the Micro is a great pick for iOS players on the go who also have an Apple TV at home. Just keep some AAA batteries handy, as it needs two of them. 
Hori Horipad Ultimate: Hori's $50 Horipad Ultimate is the second Apple TV-centric gamepad released in recent weeks, and it's the successor to the original Horipad (keep reading)—but with a very different build and feel. And "Ultimate," they claim? I'm not sure it's a step up in all regards, but it has the Home button and Lightning charging, the latter of which is a big perk.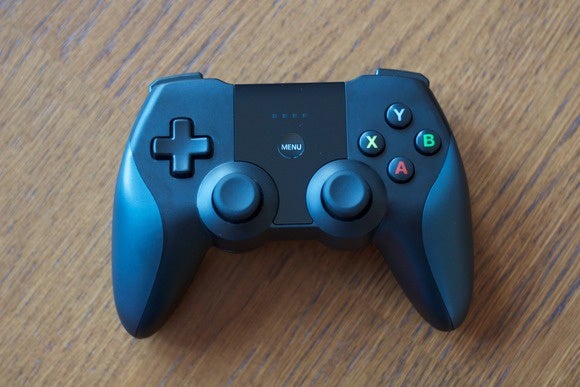 The Horipad Ultimate features more of a PlayStation-like build, albeit larger and with full grips that really sink into your palms, but it has a button layout much like the Nimbus. I don't love the construction, though: The plastic has a cheap feel to it, and having the grips be separate pieces of plastic—despite feeling exactly the same—means there are creases you'll feel every time you play. Furthermore, the triggers have a spongey feel rather than a nice spring to them. 
All that said, the Horipad Ultimate works well in use, and matches the Nimbus in terms of feature set and price. I'd easily give the advantage to the Nimbus on build and button feel, but the Horipad Ultimate is absolutely solid. 
The rest
SteelSeries Stratus XL: The $50 Stratus XL predates the Nimbus by a year, and it has a very similar shape and build. The plastic feels a bit more premium here, and the analog sticks have a nice texturing—the Stratus XL launched at $80 (after being announced at $100), so the upscale feel makes sense. It's still worth a look, especially if you like a raised, circular d-pad versus the plus sign shape.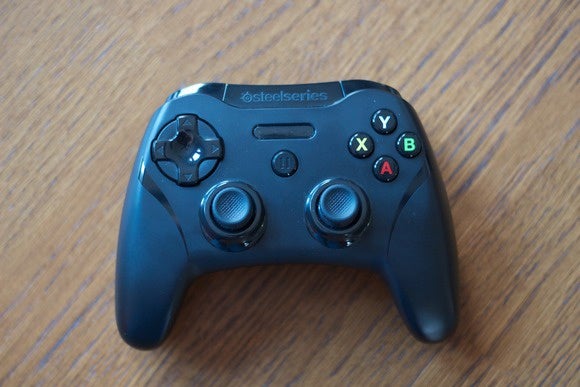 That said, the Nimbus has really replaced it as an MFi frontrunner. The Nimbus has Lightning charging, whereas the Stratus XL uses a micro-USB cable, plus the triggers on the Nimbus are smoother and quieter in use. I'm surprised to see the Stratus XL still in SteelSeries' lineup, especially at the same price—but if you can find it cheaper, it's a strong option.
Hori Horipad: Curiously, the original $80 Hori Horipad hasn't dipped in price since debuting a year ago—which is a shame, since there's a lot else to like about it. Hori has plenty of experience making console gamepads, and the Horipad feels a lot like a PlayStation 3 DualShock 3 controller: The smaller shape, parallel analog sticks, and L2 and R2 buttons instead of proper triggers give it a unique feel in this group.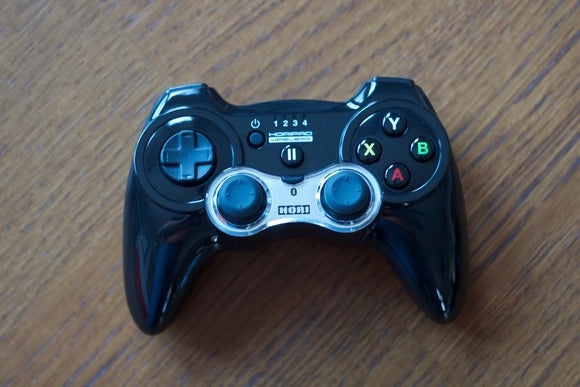 The glossy black plastic is an odd decision, as it makes the Horipad feel slippery, but otherwise the PlayStation-like design is both comfortable and comforting for fans. Unfortunately, it comes at a premium, since the $80 price hasn't changed and it's not widely available outside of Hori's own online shop. It's tougher to recommend now, given the abundance of cheaper options.
SteelSeries Stratus: Quite a lot of SteelSeries on this list, eh? Well, this one is different: The $50 Stratus was the company's first MFi gamepad, released about two years ago, but it remains interesting due to its amazingly compact build: It's about the size of an iPhone 4s, just thicker. It's the only gamepad on this list that I'd feel comfortable tucking into a pants pocket, and it even comes with a little plastic shield to protect the buttons and sticks during travel.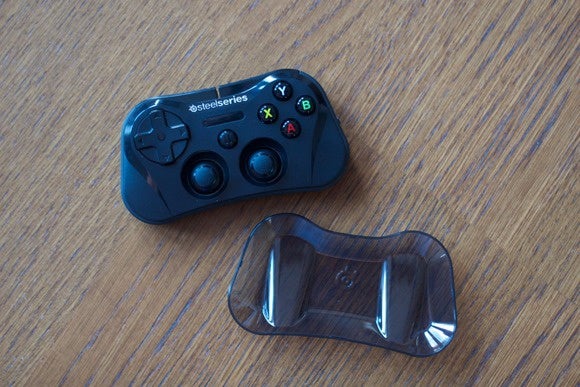 The small size comes with drawbacks, however: The shoulder buttons are super cramped, plus the analog sticks feel a little fiddly. It also has the cheap plastic feel of a Happy Meal toy, and the current $50 price tag is far too much given the competition. But if you can find one for less, it's appealing as a portable ally. 
PXN Speedy: The $60 Speedy is the only controller on this list that doesn't come from a known player in the gaming peripheral space, and the Chinese company is selling them directly via Amazon. There's a fair bit to like right off the bat: It's a full-sized pad very much built in the mold of the Xbox 360 controller, with firm-feeling analog sticks and an optional clip for attaching an iPhone.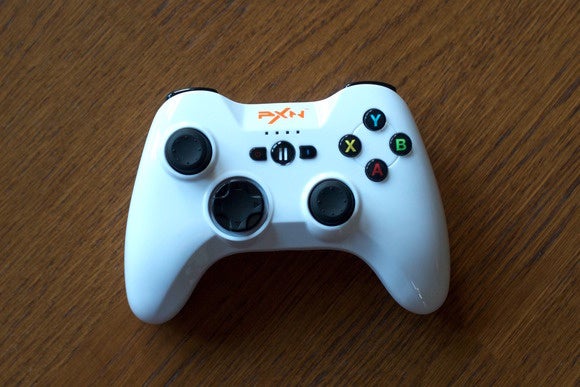 Unfortunately, the d-pad is an issue. The disc design felt disconcertingly jittery before I even paired it to the Apple TV, and once I started using it, I noticed that pressing down often didn't register without a very firm touch. Early MFi gamepads often had bad d-pads, and that's the case here too. Were that not an issue—an Amazon user review cites the exact same problem, so it's not just this one—the PXN Speedy would be a solid recommendation, even with the slightly higher price than others on this list. 
Mad Catz C.T.R.L.i: Last and sadly least is the larger $60 Mad Catz C.T.R.L.i gamepad. While the Micro version is a strong little option, I've had nothing but trouble with the standard model. The first unit I tried, back when it launched about a year ago, had an unresponsive d-pad much like the PXN Speedy above. So I grabbed another one recently to see if anything would change with a new unit.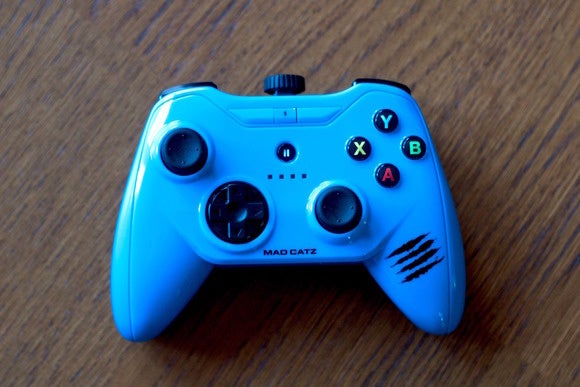 It was even worse. The d-pad was flat-out broken out of the box, and just kept trying to scroll across the Apple TV menu even when I wasn't touching the controller. The C.T.R.L.i has a fine shape and feel—although it has a little extra bulk—and the optional iPhone clip is nice. But after going zero-for-two on these, I'd rather point you towards any other gamepad on this list.
This story, "The best Apple TV gamepads available today—and the rest, too" was originally published by Macworld.
Shop Tech Products at Amazon
Popular on ITNews
Where can I find Pikachu? More than one Pokémon Go map promises to help you find rare Pokémon—and they...
Here's everything you need to know about Apple Pay and its ins and outs, plus an up-to-date list of...
These graphically intense PC games crank the eye candy to 11—and make your PC sweat while they're at...
Popular Resources
Video/Webcast
Sponsored

Video/Webcast
Sponsored

White Paper

White Paper

White Paper