The best gaming headsets of the year
These headsets strike the right balance between performance and value, no matter your budget.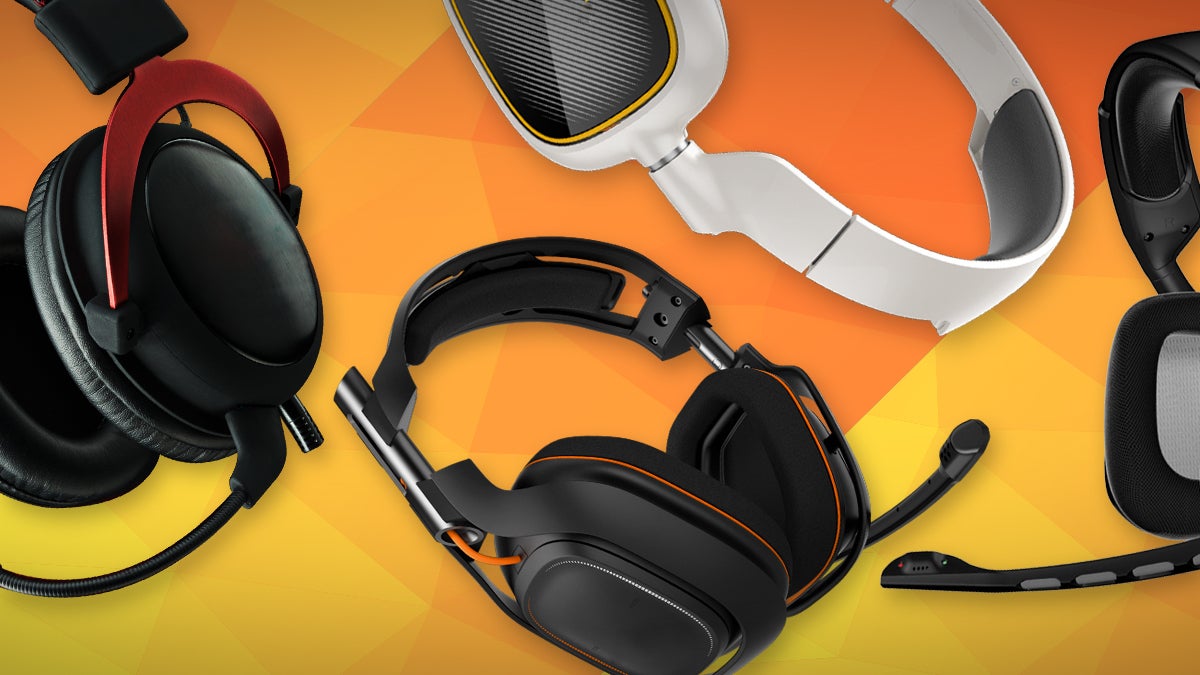 Updated August 1, 2017: The Logitech G533 has toppled its own kin, the Logitech G933, for best mid-range wireless headset. Its refined design and solid features make it a great deal.
The next great peripherals war is being waged over your ears. After every company on the planet put out a gaming mouse and then a mechanical keyboard, now it's time for headsets. So many headsets.
We know you don't want to scroll through every single headset review when all you want is a simple answer: "What's the best gaming headset I can buy with my hard-earned dollars?" This page holds the answer you seek, no matter what your budget is.
We'll keep updating our recommendations as we look at new products and find stronger contenders. For this latest update, we've reviewed a few fancypants models, namely the Sennheiser Game Zero and and Sennheiser GSP 350, and the Audio-Technica ATH-AG1X. For more earthly budgets, we've also tested the SteelSeries Arctis 7, the HyperX Cloud Revolver S, and the Logitech G533, which debuts as our new best mid-range wireless headset.
Best all-around headset
Our 2016 headset recommendation remains pretty much the same as our 2015 headset recommendation (and our 2014, for that matter): The Kingston HyperX Cloud. Or, if you're feeling a bit fancier, the Cloud II. It's comfortable, it sounds great, and (best of all) it's relatively inexpensive. What else could you want in a headset?
True to its name, the HyperX Cloud is one of the most comfortable headsets on the market. It's hefty, with a solid-metal construction that belies its cheap price, but sits feather-light on the head. The faux-leather earpieces are generously padded, oversized, and form a good seal without squeezing too hard.
And it sounds excellent. As I said in our review, this isn't a studio-quality set of headphones. It's got the typical gaming-centric bass boost and a slick high end, but both are subtle enough that the HyperX Cloud competes favorably with headsets twice its price. There's no Kingston-provided means to adjust the sound, given that the HyperX Cloud connects through standard 3.5mm jacks, but you honestly shouldn't need to tweak it at all out of the box. It sounds pretty damn great.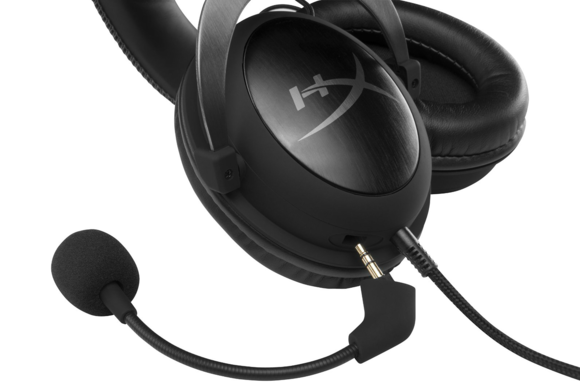 The only real downside is the microphone. It's very flexible, which I appreciate, but has a tendency to pick up background noise and plosives while leaving your voice nasally and hollow.
The slightly-more-expensive HyperX Cloud II is, I think, more a lateral move than an improvement over its predecessor. It swaps the 3.5mm connection for a 7.1-ready USB soundcard with better in-line controls and a bit of noise cancellation on the microphone, but you wouldn't notice a huge difference between the two iterations and I'm not sure the increase in cost is worth it.
Regardless, either model is an excellent choice for a gaming headset. In an increasingly crowded market, the HyperX Cloud nails pretty much every major category with few significant compromises. I hope the next model improves on the microphone, but for $80 it's a steal.
Best ultra-budget headset
HyperX's Cloud headset is still our favorite, but the company undercut themselves a little by releasing the HyperX Cloud Stinger. Listed at $50, it's one of the cheapest gaming headsets I've ever seen from a reputable brand. And it's good.
Sure, it's not quite as good as the original Cloud, but for many people the Stinger should do just fine. The plastic chassis lacks some of the original Cloud's panache and durability, but looks high-end from a distance and sits pretty slim on the head. HyperX also solved the Cloud's biggest issue and finally put a volume slider straight on the bottom of the right earcup and gave it a flip-to-mute microphone, so no more fiddling with in-line controls.
As for the audio, the Cloud Stinger's got a solid mid-range with little to no distortion even at high volumes. The treble is a bit underpowered and the bass range is almost nonexistent, but 80 percent of any given game, film, or song will come through clear and clean.
If you already have a decent headset, especially the original Cloud, I wouldn't say the Stinger is a must-own. But if you're looking for an excellent value on entry-level hardware, this is it. It's an insane bargain when you compare it to other headsets in the same price tier.
Best low-end wireless headset
Frankly speaking, Corsair doesn't really have any competition in this category. Most decent wireless gaming headsets will run you $150 or more. Corsair's Void Wireless is priced at a mere $100, which leaves it on its lonesome.
But even accounting for that vacuum, it's pretty good. Not phenomenal, mind you, but at this price you're getting a bargain.
I wasn't really sure what to make of the Void's weird, diamond-shaped ear cups but after some use I'm actually pretty pleased. The Void Wireless sits a bit forward on the head, with the band resting just above your forehead. It takes some getting used to, but the end result is less tension on the jaw and more on the back of the head where it's less noticeable. I wouldn't say it's as comfortable as the more traditional HyperX Cloud, but without a doubt I like it more than its predecessor, the H2100.
The on-headset controls are fairly intuitive, with a volume rocker on the bottom of the left ear, plus oversized buttons for power and mute on the side. And it's got 16.8 million color RGB lighting, if that's your bag.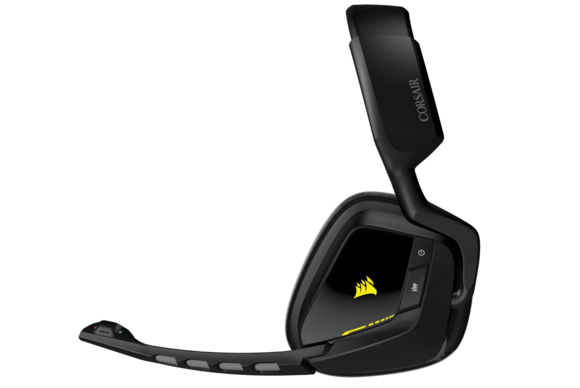 The biggest design issue is that the Void Wireless is heavy. It's not a problem when sitting up, but if you look down or look up the headset has a tendency to slide around. I don't know whether it's because of the battery or the metal-augmented construction, but your neck gets a workout with this headset.
Sound-wise, the Void Wireless still needs some work. It sounds passable, especially while gaming, but throwing on some music sets the Void Wireless's limitations into stark relief. The low-end is muddy and distorted, and the whole range of mid-to-high-end frequencies sounds slick, like you've applied too much compression.
You can adjust the headset's sound in Corsair's software, but Corsair's software is still a bit unwieldy. Better than last year, I think, but still not on par with Razer, SteelSeries, or Logitech. Also, some users have reported problems with firmware updates—not a great sign.
"This doesn't sound like an incredibly positive review," you might say. And you're right, it's not. The Void Wireless is not an incredible headset, as I said up top. But it is the best wireless gaming headset under $150, and given how many wires are attached to my PC at any given moment, the convenience of cheap wireless might be worth sacrificing a bit of sound quality.
Best mid-range wireless headset
It's a tough call replacing our former mid-tier wireless pick, the Logitech G933, with its sibling-successor the Logitech G533. Like, really tough. The G933 is an excellent headset, with crisp and well-balanced audio and a few nifty design features (like being able to store the USB dongle inside an earcup).
In some ways, I'd say the G933 is a better headset than the G533.
But I'm still replacing it. Why? Well, aesthetics are a huge reason. If you want an indication how Logitech's design language has shifted in the past year or so, look no further than the G933 and G533. The G933 was all sharp angles and science fiction. The G533 on the other hand is sleek, professional, restrained. With a piano-black finish and soft curves, it looks like a headset made by Audio-Technica or Sennheiser or a more mainstream audio company—not necessarily a "gaming" headset. I like it.
The G533's design is also functional. The microphone isn't as hidden as I'd like, but that's the sole flaw. The headset is lightweight, durable, and less vise-grip tight than its predecessor.
As for audio fidelity? It's not quite equal to the G933, but the differences are minimal. The G533 lacks a bit of oomph, especially at lower volumes, and its 7.1 support is subpar. Those are hardly reasons to stay away, though—most people will run the headset loud enough to counteract the headset's lack of presence, and virtual 7.1 is (in my opinion) pretty much always bad. The G533 is worse than the average, but the average is still something I choose to avoid day-to-day.
In any case, the G933 is still being sold and is a perfectly good choice for some, especially if you want console support. The G533 is PC-only, while the G933 can be attached by 3.5mm cable to other devices. And if you value comfort over audio fidelity, take a look at the SteelSeries Arctis 7 too—another great choice.
The G533 is our official mid-tier wireless recommendation though, for the time being.
Best splurge
After a new generation of the Astro A50 and Siberia 800 released in 2016, I thought we might finally break the tie that's dominated our splurge headset pick for the past few years.
But once again, there's no clear winner at that $300+ price—though Astro certainly made some strides toward edging out SteelSeries.
The new A50's biggest improvement is the battery. The new model overcomes a long-running weak spot and packs in 12 to 15 hours of life—enough to get you through even a long day of gaming. Better yet, it features gyroscopes in the ears that allow it to detect whether you've set it down. It automatically shuts off ten seconds later if so, and then turns back and connects to your PC on once you pick it back up. Its base station also serves as a charger, a nice mix of function and beauty.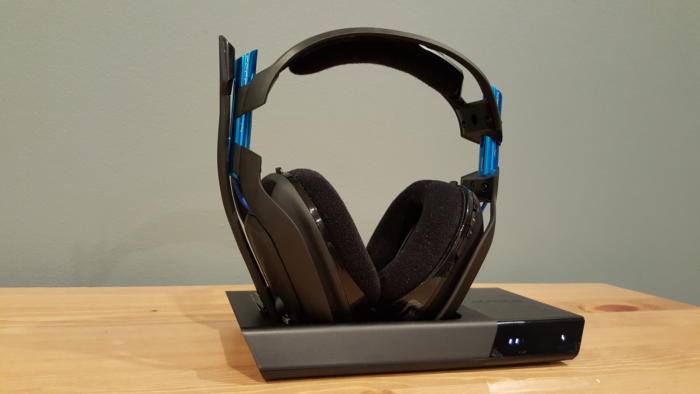 What keeps it from being the stand-out winner are several annoyances. For starters, the A50 uses the 5GHz band, which means the range isn't great. Even sitting at my computer, I occasionally noticed interference. A built-in battery also means you're stuck attaching it to your PC with a MicroUSB cable while you play, if you somehow forgot to charge it. And the audio, while quite good and superior to the Siberia 800, still is easily outdone by $300 headphones.
Accordingly, the Siberia 800 retains its spot on this list. Though the Astro A50 sounds better and is more comfortable, this headset's been a favorite of mine for a while--mostly because of its battery system. Rather than charging the battery in the headset, the Siberia 800 instead allows you to swap between two removable packs. One can power the headset for up to 20 hours while the other charges in the side of the base station. There's literally no way you can run out of battery in the middle of gaming.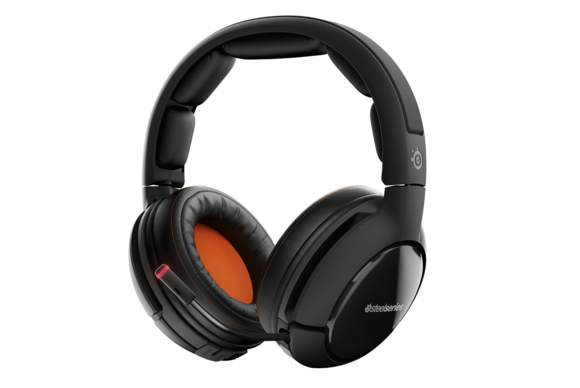 The base station is also functional, allowing you to adjust EQ, chat mix, and other audio tweaks on the fly with a simple OLED display. No software's needed. It's also much smaller than Astro's base station, which takes up a hefty portion of your desk. The headset range is better with the Siberia 800, too, since it uses the 2.4GHz band, which has better penetration.
One note: Personally I'd stick with the 800 model, since it's about $150 cheaper. The Siberia 840's main difference is Bluetooth support, which doesn't seem worth it for that much of a jump in price.
Overall, the A50 leads in comfort and sound, while the Siberia 800 gets the edge in ease of use and range, plus the aforementioned charging method. The scales are starting to tip in Astro's favor, but for now there's not enough to make a definitive call in either direction.
How we tested
We test headsets over the course of a few weeks, and sometimes longer. Much longer, in some cases—I've been using a pair of Astro A50s as daily drivers for years now, and stand by their quality and durability. Our rankings are based on the following criteria:
Shop Tech Products at Amazon