Roost Smart Battery review: This is the best smoke-alarm battery you can buy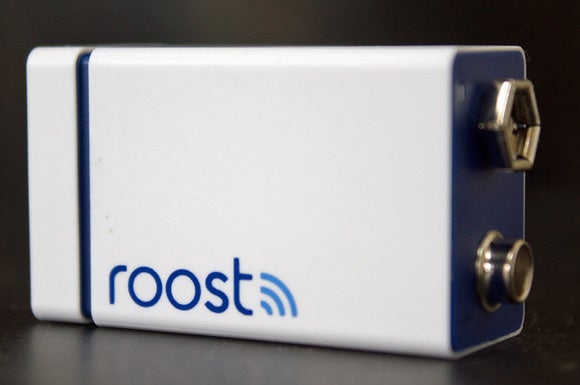 Few life events are more annoying than being awakened at 3AM by a chirping smoke alarm. But the alternative—waking up to a house engulfed in flames because you didn't know the battery in your smoke alarm died—is far worse. The Roost Smart Battery neatly solves this problem by sending an alert to your smartphone well before the battery reaches the level that prompts the alarm to chirp. But that's the least-important benefit the Roost Smart Battery delivers.
The Roost will also send alerts to you—and to as many additional people as you can recruit to be in your Home Circle—when the accumulation of smoke or carbon monoxide triggers the detector it's installed in (those folks will need to accept your invitation and install the Roost app on their own smartphone). This alert message, complete with the sound of a klaxon, includes the phone number for your local emergency responder, so you can quickly summon help. How does it accomplish this trick? The battery is equipped with a tiny Wi-Fi transmitter that talks to your wireless router.
And for those times when you burn something on the stove and the smoke alarm goes into a tizzy? Whip out your smartphone and hit the "snooze" button. It will turn the off the alarm and send a message to your contact list to let them know everything is okay. The alarm will sound again if smoke continues to accumulate. The battery itself is the exact same size as a normal 9-volt battery—it has to be to fit in the devices it needs to power.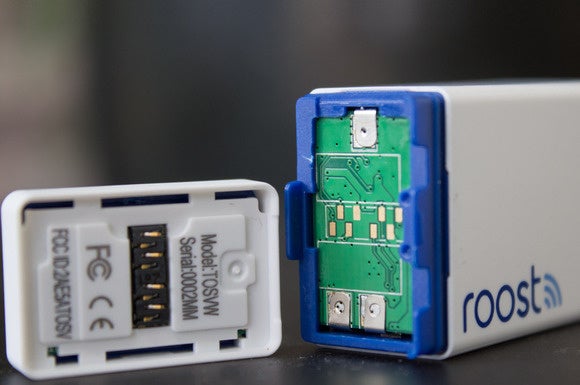 I must say I wasn't as impressed with the Roost Smart Battery when I first heard about it more than a year ago. In the original design, you simply tossed the $35 battery in the garbage at the end of its five-year life (a longevity feat made possible by a sophisticated power-management algorithm). Fortunately, that's not the design that reached the market. When this battery dies, you simply detach the tiny Wi-Fi module from the dead battery and snap it onto the $15 replacement battery—which will run for another five years (repeat ad infinitum). That makes this device much more compelling than the product that was originally announced.
How it works
It took me just a little longer than the five minutes Roost says is needed to install the battery. The first step is to install the app (there are Android and iOS versions) on your smartphone. You then use the app to pair the battery with your phone, and in turn, with your Wi-Fi network. You then plug the battery into your smoke detector.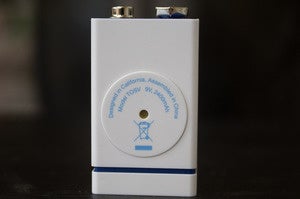 The detector relies on the high-pitched sound of the alarm to deform a piezo-electric sensor to trigger its own alarm. I intentionally installed the battery in the smoke detector in my master bedroom because its siren is defective—it makes more of a growl than a high-pitched squeal. But the Roost still went into an alarm state, perhaps after picking up the noise of the detector in the hallway. An alert arrived on my smartphone a few moments later.
If your home loses power, the Roost Smart Battery won't be able to send alerts to your smartphone. The smoke alarm will still function, of course, but you won't hear if you're away from home. My recommendation: Connect both your Wi-Fi router and your Internet gateway into an uninterruptible power supply (UPS).
Should you buy one?
It might seem expensive to replace all your smoke-detector batteries with Roost models, especially if you have a larger home (you should have one in each bedroom, and one in a common area). But this one-time investment isn't much more than you'd pay for a few months service from the typical monitored home-security system, and the cost to replace those batteries in five years will be less than half that amount. It's a no-brainer, really.
This story, "Roost Smart Battery review: This is the best smoke-alarm battery you can buy" was originally published by TechHive.
At a Glance
Roost Smart Battery

TechHive Rating

They're much more expensive than the typical 9-volt battery, but they deliver peace of mind that no dumb battery can.

Pros

Sends alerts to your smartphone (and to friends and family willing to install the app) when your smoke or CO detector goes off
Five-year battery life
Replacement batteries cost less than half as much, thanks to a reusable Wi-Fi module

Cons

You can't customize the message Roost sends to those you ask to monitor your alarms
App defaults to 911 instead of the number for the fire department nearest your home
Shop Tech Products at Amazon
Popular on ITNews
Where can I find Pikachu? More than one Pokémon Go map promises to help you find rare Pokémon—and they...
Here's everything you need to know about Apple Pay and its ins and outs, plus an up-to-date list of...
These graphically intense PC games crank the eye candy to 11—and make your PC sweat while they're at...