Qualcomm is dominant in smartphone processors, but the bloom is off the rose a bit this year. Its latest high-end processor, the Snapdragon 810, has been the subject of some controversy over thermal problems. And the chip hasn't sold as well as expected, either: Samsung opted to use its own processors in its flagship Galaxy phones, and other high-end phones like the LG G4 shipped with the slightly less powerful (and less power-hungry and hot) Snapdragon 808.
If the latest specs leaked by Chinese journalist Jiutang Pan are any indication, Qualcomm's next high-end SoC might be the comeback kid the company needs. Rumor has it that the chip will be officially announced next week and should appear in phones early next year. Improvements are to be found in nearly every major aspect of the chip—CPU, GPU, imaging processor, power utilization, you name it.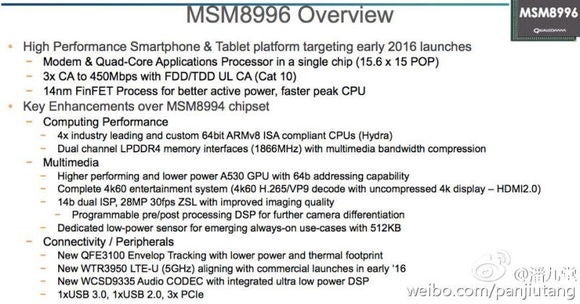 The impact on you: Qualcomm sells a ton of smartphone chips. They're in nearly every major non-Apple phone sold in the U.S., outside of Samsung's very latest products. The 810 disappointed us, but these leaked specs (which seem reasonable) point to a processor that addresses every shortcoming of the 810, and then some. If these are right, the high-end phones of early 2016 will be running on one heck of an engine.
Improvements everywhere
The leaked specs list seems reasonable, and appears legit in that it follows the general formatting of many of Qualcomm's past internal marketing slide decks. It references the Snapdragon 820 by the part number (MSM8996), and compares it to the Snapdragon 810 (MSM8994).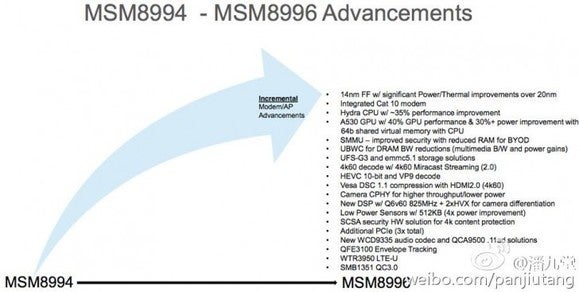 So what improvements are on tap? The key takeaways are:
A jump from 20nm to 14nm FinFET manufacturing: Right now, only Samsung ships high-end phones with processors built on a 14nm process, and it makes for fast, cool, power-efficient SoCs.
A return to custom CPU cores: Qualcomm switched from its own custom CPU core designs to ARM's Cortex-A57 and A53 cores in a big.LITTLE configuration for the Snapdragon 808 and 810. With the 820, Qualcomm is back to using 4 cores of its own design, code-named Hydra. Qualcomm claims a significant 35-percent performance improvement.
A new generation graphics processor: The Snapdragon 810 features an Adreno 430 GPU, while the 820 jumps to the 500 series (the Adreno 530, specifically). Qualcomm says its 40-percent faster with 30-percent less power utilization.
Improved camera and video: The new chip has faster dual image signal processors (ISPs), and supports more advanced video decoding (4k60 decode and miracast support and 10-bit HEVC decode). This means more camera features and better photos and videos.
Improved radios and sensors: The low-power DSPs (digital signal processors) that do things like enable always-on listening have been improved for higher performance and lower power. The same goes for the radios—expect better reception and higher bandwidth with less overall power draw.
On paper, it sounds like just the ticket. Everything is faster—considerably so—while using less power and generating less heat. Of course, we would expect a major new high-end chip from Qualcomm to promise nothing less. In truth, even if all these leaked specs are correct, there's no way to verify Qualcomm's claims until we start to test phones and tablets with the new processor, and that is still many months away. What's more, the way the chip is implemented into each device can have a dramatic impact on power use, thermals, and performance. 
This story, "Report: Qualcomm Snapdragon 820 specs leak, point to greatly improved SoC" was originally published by Greenbot.