Update
Dash cam reviews: What you need to catch the maniacs and meteors of daily driving
They record what's ahead. Sometimes they record what's behind. Most mark it with GPS (or what's the point?). This is exactly what you need on the mean streets of modern life.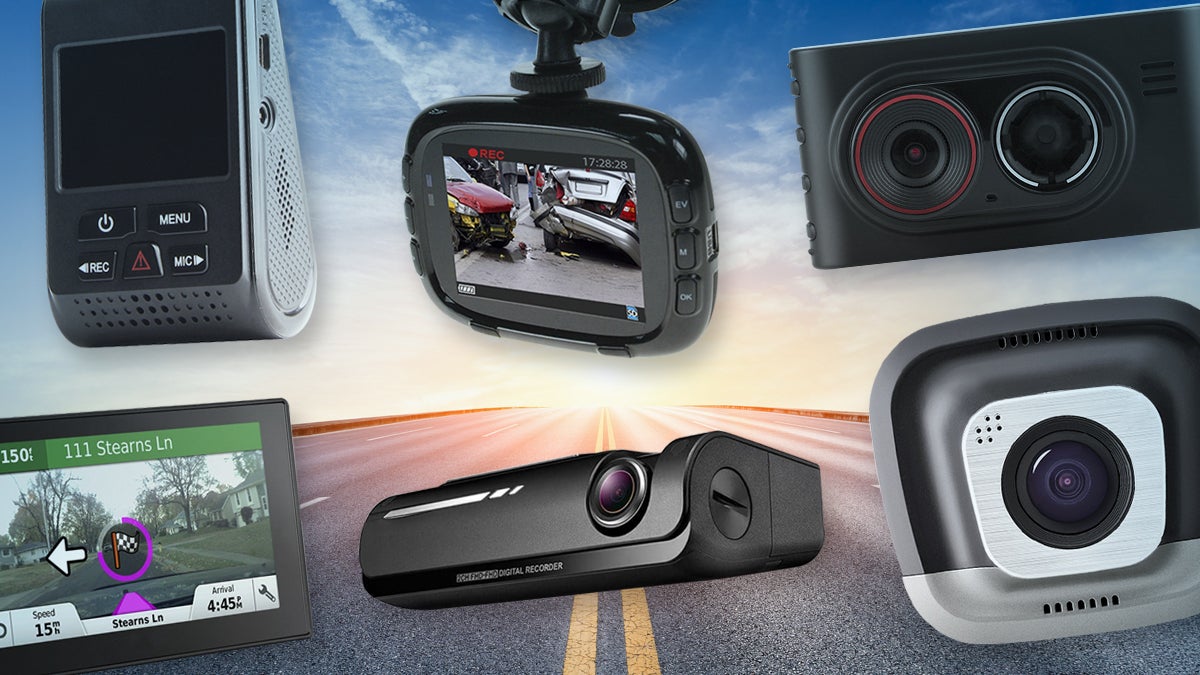 June 7, 2017: Updated with our review of the Garmin Dash Cam 55, which adds a "hey, stupid" driving aid that you and every car around you will appreciate.
Dash cams are already essential in many countries because of scam artists who try to create accidents so they can sue you. They've also proven useful for catching the occasional meteor, as happened in Thailand and in Russia a few years ago.
But while auto cons aren't as common here, recording your excursions is a reasonable precaution to take—especially if you're driving professionally.
Few people are as well situated geographically as I am to test dash cams. Within two blocks there are major four- and six-lane thoroughfares, numerous bike lanes, joggers, dog walkers, oblivious ear-budded pedestrians, and a major bus nexus serving both public and private coaches. The opportunities for near-accident are endless.
Our latest review and a new favorite is the Garmin Dash Cam 55. In addition to being an all-around good dash cam, it has a driving aid that will save you from tuning out at a stoplight, plus a convenient mount design I'd love to see on other models. 
Other recent reviews include the Cobra CDR895D Drive HD, Garmin's DriveAssist 50LMT and Dash Cam 35, Thinkware's F770 and the Viofo A119—the latter is a popular Amazon item.
All the models we reviewed in 2015 are still available and can be had for bargain prices: Cobra's CDR 840 and CDR 900, Garmin's Dash Cam 20 and Nuvicam LMTHD, KDLink's X1, Thinkware's X500, and Yada's Dash Road Cam HD.
The most pertinent improvements are HDR support (High Dynamic Range, for greater detail and contrast) and better night video processing. Another welcome trend is the ability to record two video streams (dual-channel) from front and rear cameras.
Here's what to look for in a dash cam of any vintage: 
Power: All use 12-volt, switched power via the cigarette lighter (also known as the auxiliary power outlet). All come with backup batteries or capacitors, but some have longer run time that others, which can be handy if you want to use it as an impromptu video recorder away from the car. 
Continuous looped recording, so you'll never lose fresh data (of course, older data will eventually be overwritten)
Incident recording triggered by impact (G) sensors
Continued recording when power fails (that's the battery thing...)
A decently wide field of view: You'll see cameras with as little as 90 degrees' field of view, but you'll catch more of what's around you if you go for 120 to 140 degrees. Some cameras offer 160 to 170 degrees, but the wider it is, the more fisheye distortion there is and more processing is involved to compensate.
Day and night video recording (night quality is a big variant)
MicroSD card storage. All worthy dashcams have this, but some come with larger cards and some come without.
GPS: This feature could be the tipping point if you use your captured video to resolve a dispute. GPS watermarks your video with geographical coordinates, and you'll also want to set the time via GPS (a few models don't do this).
Dual-channel support: This is what you'll need if you want to support front and rear cameras, but it'll involve more cabling (and cost more overall). Only a few models we've tested have it: Thinkware's $280 X500 and $300 F770, but the rear camera for those units costs an additional $80. The Cobra CDR895D gets you into dual-channel video for a measly $200—rear camera included. That's news.
They record by day, they record by night
All the dash cams I've reviewed take very good daytime video. Night video can be plagued by murky shadows and headlight flare, so take a close look at the night shots in each review. 
Aside from rear-view and GPS, the most salient differences between the products are the interface controls and extra features, such as the lane departure and collision warnings that you get with some models. I tried them...and I turned them off. In practice, they simply told me I was changing lanes, in heavy traffic, or had just been cut off. Additionally, the collision warnings generally come too late to do anything but distract you at exactly the wrong time. 
I definitely had my favorites, but all the products will capture any metal-on-metal incidents you're unlucky enough to experience. Although in the case of the Yada (one of our lowest-rated products), only during the day.
Tip: Many dash cams rely on adhesive for mounting to your windshield. Hot conditions can make it next to impossible to remove the film that protects the adhesive. Remove the film in a cool environment, or place it in the fridge for a minute or two before heading outside.
Coming up next
As nice as dual-channel is, there's talk about true 360-degree video. Check out TechHive's review of PowerDVD 16's 3D playback to see how compelling that can be. We're also waiting for some sort of off-device storage, or continuous Web upload so that the evidence of who stole your car doesn't disappear with said vehicle.
Shop Tech Products at Amazon