Acer Aspire R 13 review: A convertible laptop done right
Acer's Aspire R 13 features an "ezel" display that gets the screen significantly closer to your eyes.
I've given Acer grief over some of its products in the past, mostly its cheap and often poorly-realized Iconia stuff. But give the company its due: When the design team has a good day, it produces some excellent laptops. A prime example is the Aspire R 13, a fast ultrabook with long run time and a versatile dual-hinge mount that lets you rotate and re-orient the touchscreen display in a number of useful positions. I've seen it elsewhere described as clunky. I like it. Opinions vary.
Design
Though it's not the first company to employ a dual-hinge display mount, (Dell's XPS 12 ultrabook convertible employs the same basic idea), Acer's take on it is superb. Acer calls it the Ezel hinge and has trademarked the name. OK. I particularly like the way the design lets you scoot the display forward for closer viewing while still maintaining a decent viewing angle and unfettered access to the keyboard. You can also flip it and turn the laptop around for watching movies without the distraction of the keyboard deck, minor as that is.
The Aspire R 13's appearance is handsome iand unique. I actually used the word "cool" when I first saw it because the dual-hinge functionality is in full view. I also like the minimalist design that focuses your attention on what matters—the screen and to a lesser extent, the keyboard.
The backlit, Chiclet-style keyboard is one of Acer's better planks. It's not quite in the same league as a Lenovo, or some Dells in terms of feel, but it's more than type-able and I particularly like the bright, white-and-blue text. Even if you touch-type, the brighter text helps you orient your fingers at the get-go, and helps you more easily discern the secondary functions.
I also found the one-piece touchpad well-adjusted and solid-feeling. I've recently run into a spate of touchpads that are overly sensitive (for my tastes) to taps, and it was nice not inadvertently clicking all the time. The touchscreen was responsive to both my fingers and the Acer Active Pen. There's a hover function with the pen, so you don't actually have to touch the display with the pen to click on stuff. I rarely used it as I like the tactile feedback from pressing the pen against the display.
Despite all the display mounting hardware, the R 13 weighs in at a relatively light 3.3 pounds and is only about 0.7 inches thick.
Components and configurations
The Aspire R 13 is available in ten different configurations, starting with our test unit, the $899 R7-371T-59ZK with a Core i5-5200U, 8GB of memory, and a 128GB SSD. The line tops out with a Core i7-5500U, 8GB of memory, and a 512GB SSD for $1,499. There's also a model listed at $1,499 with the same specs, except the CPU is a Core i7-4510U. Click the Buy button with that one and it drops to $999. Come on Acer: Both the "$1,499" models feature a 2560x1440 display, while all the other models are 1920x1080.
The port selection on the Aspire R 13 is minimal, but if you're going to have only four ports, three USB 3.0 and and HDMI, these are probably what you want. There's also an SD card. OK, I'd prefer DisplayPort, but at least the Wi-Fi is 802.11ac with Bluetooth 4.0, courtesy of Intel's AC-7265 chipset.
Lousy documentation
One thing I find monumentally frustrating about Acer is that quite often, they're Apple-like in their inadequate hardware documentation. There's a user's guide, but it doesn't tell you how to swap out the internal battery. Acer says the battery is not user replaceable. Really? It looked simple enough, I removed the 12 screws from the bottom of the unit and spudged (pried with a plastic tool) the bottom panel off. Sure enough, the battery is in plain view and replaceable. You can also easily access the mini-PCIe slot inhabited by the AC-7265 and the M.2 slot filled with the SSD. 
I understand warranty concerns, and I also understand that vendors make money by charging a premium for component upgrades. Apple has made billions that way. But as it's likely the battery will outlast the one-year guarantee, it would be nice to know you can replace it without incurring a service fee. As I've just told you how to do it, I won't hold that against the Aspire R 13, which I like quite a bit.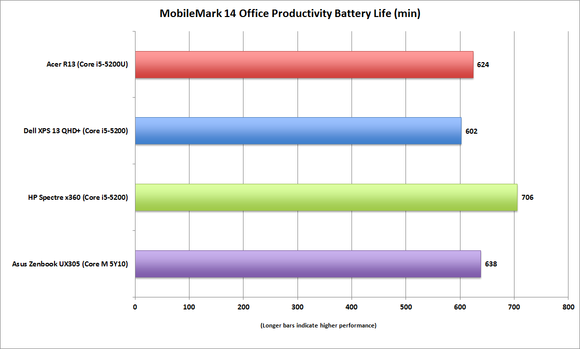 Performance
The Aspire R 13 R7-371T-59ZK scored 2,742 on PCMark's Work conventional test, and 2,146 on the Creative conventional test. CrystalDiskMark rated the Kingston RBU-SNS8100S3128GD SATA SSD at 518MBps sequential reading and 342MBps sequential writing. Those are good results and right about where you'd expect given the components. 
Gaming scores were typical for Intel HD 5500 graphics—playable only for lower resolution/lower detail Web and basic games. Movies looked great, but the sound through the speakers, despite the Dolby Digital Plus (which adds volume and a sense of space) is thin at best. With headphones, the Dolby helps a great deal.
Battery life is outstanding: The Aspire R 13 ran for an impressive 7 hours and 23 minutes while rendering a high bit-rate, 1080p MKV movie. That's better than a cross-country flight--that's all the way across the Atlantic from New York.
In office drone work, we measured the R13 at 638 minutes using MobileMark 14, which is even easier on the battery because it allows the PC's screen to go blank during the test to simulate real world use.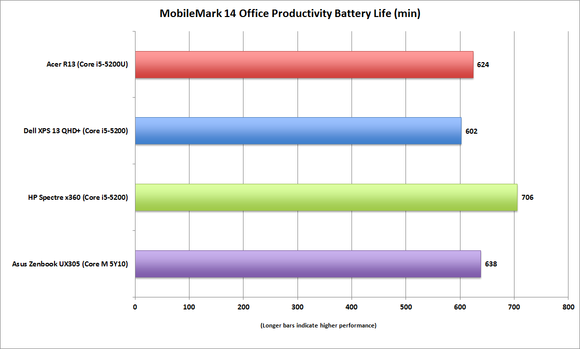 Conclusion
Some of my all-time favorite laptops have been made by Acer, including the 17.1-incher I take with me on road trips. The Aspire R 13 has joined that list, and the low-end model I tested should be more than enough computer for the majority of users.
This story, "Acer Aspire R 13 review: A convertible laptop done right" was originally published by PCWorld.
Shop Tech Products at Amazon
Popular on ITNews
Where can I find Pikachu? More than one Pokémon Go map promises to help you find rare Pokémon—and they...
Here's everything you need to know about Apple Pay and its ins and outs, plus an up-to-date list of...
These graphically intense PC games crank the eye candy to 11—and make your PC sweat while they're at...
Popular Resources
Video/Webcast
Sponsored

White Paper

White Paper

White Paper

White Paper