Humble Bundle Offers a "School's Out" Bundle with No Starch Press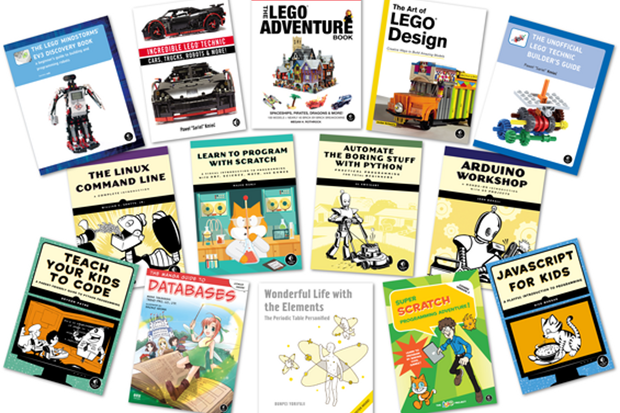 Any plans for the summer? Forget the beach. Forget your reservations for King's Dominion and Disney World. Use those extra daylight hours to beef up on some of your system skills, acquire some new ones, or have an adventure with LEGOs or Super Scratch! Humble Bundle is offering its second Super Cool E-book bundle -- a collection of some of the most easy and fun introductions to programming and other topics (like plate tectonics) from No Starch Press.
Like the Brainiac Book Bundle from back in February, the bundle is worth several hundred dollars and includes many excellent books, some of which I've reviewed in past posts. This bunch of e-books might be just what your kids, nieces and nephews need to fill up otherwise "boring" hours now that school is out for the summer. Here's the deal -- Pay any amount and get:
Super Scratch Programming Adventure!
The LEGO Adventure Book, Vol. 2
The Manga Guide to Databases
Wonderful Life with the Elements
The Art of LEGO Design
Pay more than the average and get these as well:
Javascript for Kids
The Unofficial LEGO Technic Builder's Guide
Learn to Program with Scratch
Arduino Workshop
The Linux Command Line
The Incredible Plate Tectonics Comic
Python for Kids
Lauren Ipsum
Pay $17 or more and get these on top of the others:
The LEGO Mindstorms EV3 Discovery Book
Teach Your Kids to Code
Automate the Boring Stuff with Python
Check it out at https://www.humblebundle.com/books
This super geeky book bundle runs for two weeks and will end July 1, 2015, at 2 PM EST.
NOTE:  This book sale benefits both the Electronic Frontier Foundation and the Freedom of the Press Foundation.
This story, "Humble Bundle Offers a "School's Out" Bundle with No Starch Press" was originally published by ITworld.
Shop Tech Products at Amazon