Twitter may have a savior.
No, it's not Donald Trump.
Reeling from a stock plunge in late April and the recent announced exit of embattled CEO Dick Costolo, the microblogging site has received word via -- appropriately enough -- a tweet that a Successful Famous Person is ready to take the helm.

Soon after Snoop laid out his priorities: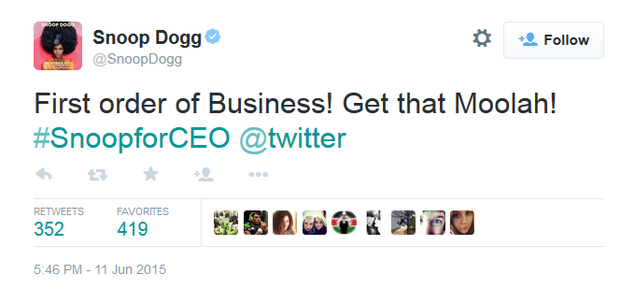 The dude knows how to cut through the smoke to get to the crux of issue: Twitter isn't generating enough cash! In fact, it's business model is being vaporized! Who else but Snoop has the experience to succeed in this environment?
We're going to buy some shares of Twitter just so we can vote for Snoop. And maybe party with him.
This story, "Snoop Dogg lays out business strategy for when he takes over Twitter" was originally published by Fritterati.