Of all the varieties of smartwatches Samsung has released over the last couple years, none have been round. But Samsung's going to change that,as it announced the SDK (software development kit) for its new, round watch interface.
The Gear smartwatch SDK doesn't run Android Wear. It runs Tizen, Samsung's own open source software. The company has been pushing hard for development on its proprietary platform the last couple of years and it's managed to round up a healthy helping of partnerships with third-party app makers, like Yelp and CNN.
According to SamMobile, the upcoming Gear smartwatch, which will run the new interface, will feature a 1.65-inch circular display with a rotating metal frame and a metal crown. It'll have a display resolution of 360 x 360, with a pixel density of about 305 pixels-per-inch. The watch will also include an accelerometer, gyro sensor, heart-rate monitor, pressure sensor, and magnetic sensor, as well as Wi-Fi, GPS, and independent cellular radio. We don't know the size of the watch casing yet, but with a 1.65-inch display and rotating dial, it's hard to imagine that it wouldn't be larger than the Motorola Moto 360 or Huawei Watch.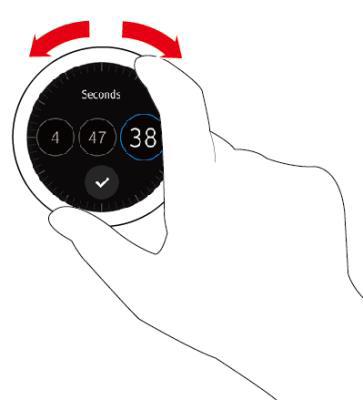 Why this matters: We've been waiting for a round-faced smartwatch from Samsung for quite some time. Rumors alluding to it started a while ago, and with its competitors showing up with their own round-faced wearables—and Apple making headlines with its Apple Watch—it's about time for Samsung to make its own round-faced watch. 
Get ready for the next Gear
Samsung was one of the first manufacturers to push a wearables platform. It started with the Galaxy Gear alongside the release of the Galaxy Note 3 in late 2013, and has since grown to include an Android Wear smartwatch, the Gear Live, which launched at Google I/O last summer.
But since then, Samsung's remained relatively quiet on the wearables scene, while LG—its competitor in Korea—has launched several different smartwatches of its own. Round watches are where the wearables industry is headed, and even TAG Heuer announced that it was developing its own smartwatch. Smartwatches have officially become more than just a fad.
In order to stay relevant, Samsung has to keep innovating, and it has to find something that fits. It did pretty well with its comeback to the smartphone scene—the Galaxy S6 is thus far one of the highest-scoring smartphones released this year—so maybe it can do it with its wearables division, too.
There will certainly be some trepidation from diehard Android users when they learn Samsung's new round smartwatch doesn't run Android Wear. However, if the company plays its cards right, it could actually end up being better for business. Samsung can get an edge by rounding up more partners and developing better software features than what exists on Android Wear right now. It's only issue thus far has been consistency, but if it can apply its strategy for the Galaxy S6 to the upcoming round-faced Gear, it might be able to convince us that actually knows what we like.
Rumors say the round smartwatch isn't expected until at least September, when it will be announced along with the Galaxy Note 5 at IFA in Berlin. Releasing the SDK this early will help Samsung make a big splash by announcing broad software support along with its first round watch.
This story, "Samsung reveals its round watch interface well ahead of the actual watch " was originally published by Greenbot.