A secret Google Maps feature has peeked its head from behind the curtain, giving you an even faster way to find your upcoming trip details.
Tucked inside the version 9.8 app update is the ability to ask Google Maps to show your flights, hotels, reservations, and other upcoming appointments.
For this to work, you'll need to have your reservation confirmation emails inside of your Gmail account so Google can mine them for the right information.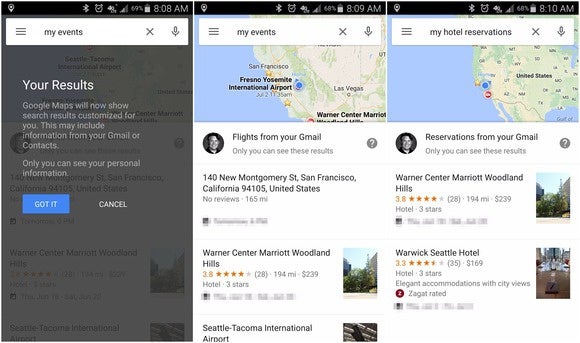 Android Police spotted four distinct commands: my events, my flights, my hotels, and my reservations. But other iterations of those phrases will find your stuff as well. For example, if you say "My itinerary" you'll get a list of upcoming flights, while "My hotel reservations" will also pull up where you're staying.
Unfortunately these commands don't work from the homepage or Google Search app; you'll need to be inside of the Maps application.
Why this matters: This gives you another, quick way to access details about upcoming travel. Google continues to push its voice capabilities and ability to tie together all your information together. That's what is behind the recent acquisition of Timeful, an app that uses machine learning to help organize your schedule.
This story, "Secret new Google Maps voice commands help you find your reservations" was originally published by Greenbot.