Hands-on: 48 hours with the Apple Watch
After being one of the first to receive an Apple Watch, our reviewer asks: Was it worth it?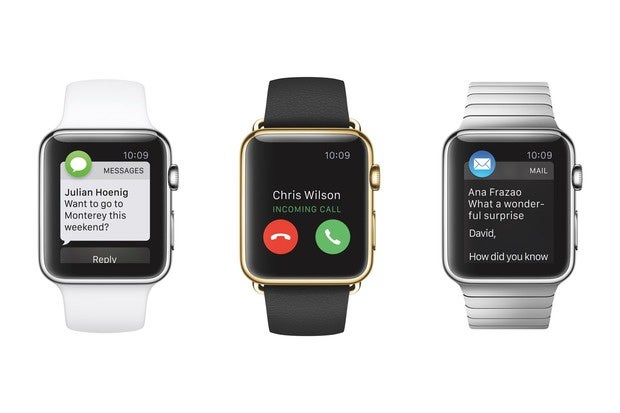 It's seemed like a long wait from when rumors of the Apple Watch first emerged two years ago to April 10, 2015, when Apple began accepting pre-orders. I was one of the lucky early purchasers and my Watch has finally arrived. So was all that anticipation worth it?
I bought the 42mm stainless steel model with the black sports band for $599 (the smaller 38mm model costs $50 less); it arrived four days after the official April 24 ship date. Currently, orders placed online show a June ship date, and the devices are expected to be available in Apple stores in June.
As of this writing, I've spent about 48 hours with the Watch and I'm still growing accustomed to its ins and outs. So far, I've used it to track workouts, control music, send messages, get directions and look up currently-playing songs using Shazam -- and I may have even looked at it once or twice to tell the time. This is a collection of my first impressions.
An impressive design
My first thought when I took the Watch out of its box was that it's much smaller than I expected; I even checked the label to make sure I had received the 42mm version. If you haven't seen one in person, it's clear that close-up photos let you see the design details, but definitely give the Watch an appearance of bulk. In the hand, or on the wrist, this isn't the case at all.
Neither the stainless steel nor the aluminum model (which I had a chance to look at earlier) feels cheap. The stainless steel version comes with a ceramic back, which covers the heart rate monitoring sensors, and a sapphire crystal display. The quality of the build process and materials used is evident, even with the sport band (which is made of fluoroelastomer, a material that feels like soft, rubberized plastic). I found the Watch to be very comfortable to wear and not obtrusive, whether I was working out or just wearing it casually.
The Watch looks and feels like an actual watch, complete with a crown on the side which Apple calls a Digital Crown. The Digital Crown gives the user manual control, allowing you to zoom into apps, scroll through lists, and make changes to settings. It works in concert with the Watch's haptic feedback, so it's easy to tell when you've reached the end of lists, for instance.
Next to the Digital Crown is the side button, which gives quick access to your list of contacts and different ways to connect with them. From that list, you can send them messages and emoticons, call their phones, or, if they have an Apple Watch, send sketches, taps or your heartbeat.
The other important technology is the Force Touch display, which offers access to settings or other hidden options via touch screen when you press down on the screen more firmly. (It's the same haptic feedback technology used in the new MacBook's trackpad.) I found it worked well in daily use. Force Touch provides access to a variety of options without cluttering up the interface with superfluous icons or menus.
Getting started
The initial setup and pairing process is pretty slick, even for Apple. After I removed the Watch from its casing and pressed the side button, startup took about a minute. Once the Watch boots up for the first time, you then have to tap the screen to select a language. It then needs to be paired -- for that, both Wi-Fi and Bluetooth have to be enabled on the iPhone. Tap on the Start Pairing buttons on both devices, and the process is initiated.
At this point, a "swirling dust" animation begins on the Watch. On the iPhone, the rear camera is activated and a Watch-sized square appears on the screen. You have to align the Watch display within this square to initiate the link. Once the two devices are linked, the iPhone displays a similar animation that syncs up with the one on the Watch.
Apple has provided videos and a user's guide to help new owners get started.
If you were anticipating its arrival as much as I was, you're likely already aware that the Watch is designed to offer quicker access through Watch apps to functions you'd normally do on the phone, such as receiving notifications and alerts, and to track fitness and health goals.
Customization and personalization is key to using the Watch, but customizing the various faces and application settings can feel daunting and even a little overwhelming at first. There are so many configuration options available -- and that's before you take into account third-party Apps and Glances.
The Watch comes with a variety of faces, most of which can be tweaked by force-pressing the face and tapping Customize. But you need to use the Watch app on the iPhone to configure app preferences. There are default settings in place on the iPhone app to help get you up and running as quickly as possible -- mostly by mimicking the way your iPhone apps are configured -- and that's probably the best way to proceed at first. Over time, you can then decide which apps you need, and which notifications you want; I found that I had to cut down considerably on the number of notifications I'd allow to interrupt my day.
Using the Watch is fascinating. Compared to the iPhone and iPad, it is not as intuitive a device, mostly because the interactions happen on such a small display. I spent the first couple of days poking, pressing and guessing what could be done, or even what should be done on the Watch instead of the phone.
I also had to learn the difference between a Glance (a quick way to get at an app's data, which can be accessed from the Watch face by swiping up and then side-to-side to switch between various bits of information), a Notification (which is an alert from an app that's can be accessed from the Watch face by swiping down) and an App (which can be launched by tapping on the associated Glance or Notification, or by pressing the Digital Crown to access the App screen).
Some first impressions
Two days isn't a lot of time to offer a comprehensive look at all the Apple Watch can do, but some things stick out immediately. Here are a few things that struck me in my initial tryout:
• The Watch is better with less. I recommend only keeping the Apps and Glances you actually use, and that you customize the settings to only allow important notifications to get through. Otherwise, all you're doing is shifting interruptions from your pocket to your wrist.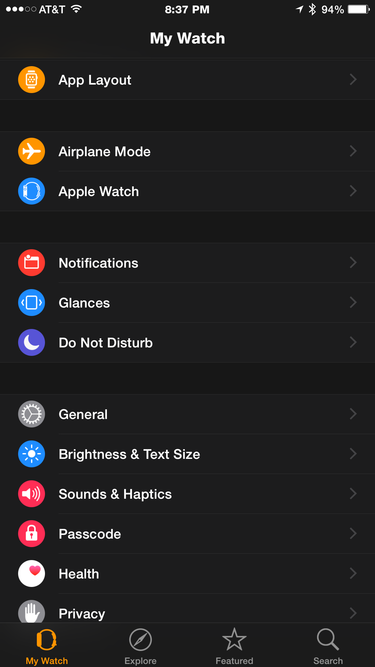 • From what I'd read, I expected the Watch to be slow -- and sometimes it is. Some apps take longer to load than others, and sometimes the Watch face will turn itself off before the App or Glance is actually loaded. Hopefully, future software updates by Apple and third-party developers will offer optimizations that speed things up a little.
• There are tons of nice little touches spread throughout the Watch. For instance, you can long-press to clear all notifications; you can use the Settings Glance to ping your iPhone when you misplace it; you can cover the Watch display with your hand to mute and turn off the display. And I really like that the Watch's haptic feedback taps your wrist using different patterns to direct you in Maps; it's now possible to get directions without Siri constantly interrupting currently-playing music.
• The Watch can be used for making payments at retail locations that accept Apple Pay, so I set up all of my credit cards using the Watch app on the iPhone. (Even if you've already set up Apple Pay on your iPhone, you have to do it again for the Watch.) Doing so requires a passcode, and since the passcode need only be entered when you put the Watch on -- it detects when the owner takes it off as a security measure -- I recommend a longer, more secure passcode (especially since making a payment doesn't require any passcode entry at all).
• In my opinion, the volume for Watch alerts is too low, even when the sound is set to its highest setting.
Also, the haptic engine is a lot softer than I thought it would be. It's possible that I received a defective unit -- according to The Wall Street Journal, problems with this component is the primary reason for the Watch's delay and short supplies. (When the madness dies down, I'm going to visit an Apple store and see if it there is a problem with my Watch. In my follow-up review later this month I should have more information.)
• I use Siri all of the time on my iPhone, and I'm using it even more on the Watch. The only problem is that the "Hey, Siri" command to activate the feature sometimes isn't recognized and I often have to repeat myself.
• Whenever I lift the Watch, it's usually to look at the face to tell the time. But sometimes I want to view the last app and continue doing what I was doing. You can set this option in the Watch app on your iPhone, or on the fly, just double-press the Digital Crown. That returns you to the last app used.
• I have read some reviews complaining that raising the Watch doesn't activate the display fast enough. I feel the Watch responds appropriately, but then again, I'm not a traditional watch wearer. For the past six months I've been using a Microsoft Band, and I'm accustomed to having to press a button to check the time. The fact that the Apple Watch turns on the display with a flick of the wrist is a step up for me.
That said, I can see how the Watch -- which keeps the display off most of the time to save power -- might seem slow to someone accustomed to a traditional watch.
What is a problem, though, is that the Watch display turns off far too quickly. Sometimes the Watch will turn itself off before an App or Glance has even finished loading. Touching the Watch display instantly turns it on again, but that should be unnecessary. There should be a way to lengthen the time before the display shuts itself off.
• I really like how Handoff -- the process of moving a task from the Watch to your iPhone -- is implemented. For example, at one point I dictated a note using the Watch; however, I then got an alert saying that I had to complete the task on the phone. I pulled out my iPhone, pressed the Home Button to turn on the display, and swiped up on the little Siri icon on the bottom left of the Lock Screen. When I did that, Siri on the iPhone confirmed that my note was taken.
The logical question remains: What is the point of having the Watch if you still have to complete tasks (such as taking a note) on the iPhone? That issue could be a deal-breaker for some -- but not for me. Not all of the tasks Siri does on the Watch need to be completed on the iPhone, but for those that do, it's nice to know that the action will be transferred intact to another device. That's pretty neat integration, even if it is implemented to compensate for a shortcoming.
• Another issue: My heart rate monitor was off-base during every one of my workouts this week, including just this morning; I like to think I'm calm and zen, but maintaining a heart rate in the 50s during heavy workouts isn't possible for me. A restart cleared up the issue temporarily, and when I called Apple Support, they had me reset the watch as a fix. I don't know yet if that's a permanent fix or not. Note: For people with tattoos, the heart rate monitoring may not work properly. (And no, I don't have tattoos.)
Bottom line
After a couple of days using it, I think the Watch is an interesting device. It's clearly only an accessory to the iPhone and not a necessary one, but it's also useful in very specific ways -- such as giving discreet directions and gentle reminders to move, tracking your fitness and integrating with the Apple Health app. It's also a device that you need to spend time with to appreciate fully.
So was the Apple Watch worth the wait? I'd say, yes. As I noted, I'm not someone who normally wears jewelry or watches. However, the Apple Watch may change my mind.
This story, "Hands-on: 48 hours with the Apple Watch" was originally published by Computerworld.
Shop Tech Products at Amazon
Popular on ITNews
Where can I find Pikachu? More than one Pokémon Go map promises to help you find rare Pokémon—and they...
Here's everything you need to know about Apple Pay and its ins and outs, plus an up-to-date list of...
These graphically intense PC games crank the eye candy to 11—and make your PC sweat while they're at...
Popular Resources
Video/Webcast
Sponsored

Video/Webcast
Sponsored

White Paper

White Paper

White Paper