TDK Life on Record Trek Flex speaker review: Weatherized (and it sounds like it)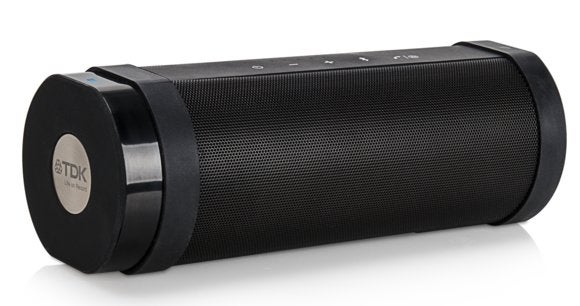 At a Glance
TDK Trek Flex

TechHive Rating
If a speaker doesn't sound good, not much else matters. Unfortunately, in the case of the portable, weatherized $130 TDK Life on Record Trek Flex, its clever design features and handsome looks don't matter as much as they should. The sound emanating from the Flex lacks clarity, which, considering the sonority of the TDK Trek 360 I reviewed in April, came as a bit of a surprise.
The Trek Flex is roughly cylindrical, and like JBL's Flip series, it can either stand on end or lie horizontally. But unlike the Flip, the Flex's larger flattened base makes it more stable lying recumbent, and a thoughtfully placed protuberance keeps it from rolling about under unstable conditions. That could be pretty handy on a boat.
A second flattened area opposite the horizontal base, i.e. the top, sports membrane buttons for power, volume plus/minus, Bluetooth connect, and phone interrupt. 90 degrees from the controls you'll find a captive rubber plug protecting the micro-USB charging port, mini-stereo auxiliary input, and the primary on/off switch.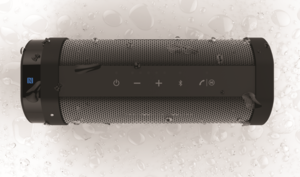 The Flex weighs 2.2 pounds, which is insignificant unless you're backpacking the Sierras or some such. Of course, in that case you could leave your speaker at home and enjoy the sounds of nature. Just sayin'. The Trek Flex is rated to IP65 (Ingress Protection code 65), which means that while it can't be immersed in liquids, or subjected to streams of them under pressure, it should stand up to being splashed or rained upon. The Flex recharges via its micro-USB port and TDK claims up 8 hours of run time. I saw from 7 to 8.
The Trek Flex shares a feature with the Trek 360 that left me and my cohorts nonplussed—it auto-starts playback upon connection with the originating device. I was back and forth with that until I turned the Flex on and I heard someone else's playlist emanating. As you might guess, that decided me against. Turning off the Flex stops playback on the originating device, but TDK still might want to re-think this behavior.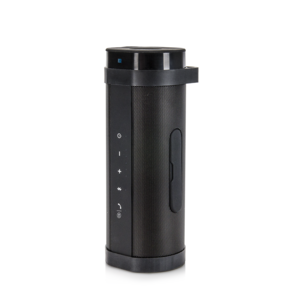 Okay, I've spun the good stuff as much as I can. The gist of the matter is that the Trek Flex doesn't sound very good. A/B'd against its big brother, the Trek 360, as well a far cheaper JBL Flip 2 and others, it sounded dead… slightly muffled… somewhat indistinct…. Choose your description.
This is probably the result of the speakers being recessed deeply into the interior; sound is dispersed radially and indirectly via two inverted cones at each end of the cylinder. Maybe the materials absorb too many high-frequency waves, or perhaps the speakers themselves aren't producing them. Whatever the reason, the result isn't particularly Hi-Fi.
The level of bass and punch was either too little (PCWorld staff), or too much (myself) and was greatly dependent upon the acoustic nature of what you set it on. We'll call that a non-issue, the real issue having already been described.
As much as I liked that Trek 360, that's how flat the Flex leaves me. One is excellent, the other is not. I suppose for $130 it's livable, but this is not the only weatherized speaker that doesn't sound very good. Maybe go for a more sonorous unit and keep it dry.
Note: the price and summation were changed for accuracy on 5/20/2015.
This story, "TDK Life on Record Trek Flex speaker review: Weatherized (and it sounds like it)" was originally published by TechHive.
At a Glance
TDK Trek Flex

TechHive Rating

The Trek Flex can stand the weather; whether your can stand the way it sounds is a whole other question.

Pros

Weatherized to IP65
Handsome design
Shop Tech Products at Amazon
Popular on ITNews
Where can I find Pikachu? More than one Pokémon Go map promises to help you find rare Pokémon—and they...
These graphically intense PC games crank the eye candy to 11—and make your PC sweat while they're at...
Don't be ashamed to curl up in a ball in the corner. These PC horror games will scare the pants off of...
Popular Resources
Video/Webcast
Sponsored

Video/Webcast
Sponsored

White Paper

White Paper

White Paper
Classic phone brands from yesteryear are coming alive in Barcelona. Nokia, Blackberry and Moto were...
Over the past decade there have been several attempts to cram video projectors into smartphones. All...
Soon, your Samsung phone may be able to recognize your iris and log you into your Windows PC.