No sooner had South Carolina police officer Michael Slager been charged with murder, somebody set up a GoFundMe account to raise money to defend this man they clearly saw in a video shooting and killing a 50-year-old unarmed black man who was running away following a traffic stop for a broken taillight.
But GoFundMe pulled down the campaign, citing its policy against "campaigns in defense of formal charges of heinous crimes, including violent, hateful, or sexual acts," which seems to include first-degree murder. So the people behind the Twitter account MichaelSlagerDefense set up shop elsewhere.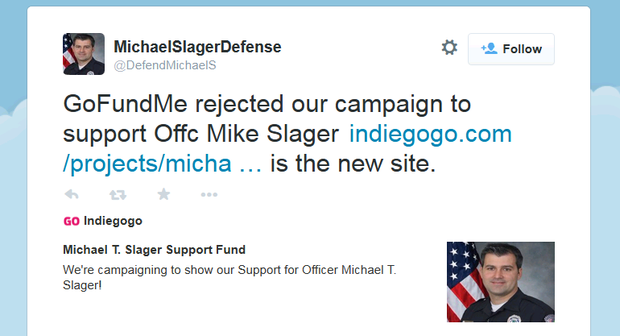 As of 9 a.m. Thursday, 16 people had contributed a total of just $333 in one day. We  suspect the video taken by a passer-by will make fund-raising a challenge. Not only does it show Slager methodically gunning down 50-year-old Walter Scott as the heavy-set black man was running away, you can hear Slager moments later commanding a dying man (or fresh corpse) three times to "put your hands behind your back." Oddly, it didn't comply.
Meanwhile, the person or people behind MichaelSlagerDefense want to make sure we remember the suffering of the Scott family. Oh wait, they don't say anything like that in their Twitter feed. Rather, they repeatedly tweeted that the white officer -- who everybody just saw gun down an unarmed black man and then plant a stun gun next to the body so he could claim self-defense -- "deserves to be honored for his service."
Because in this moment of tragedy, that's the important thing.
This story, "Online fund for S.C. cop charged with murdering fleeing black man has raised $333 in 1 day" was originally published by Fritterati.