OORT SmartLED review: This is one dim bulb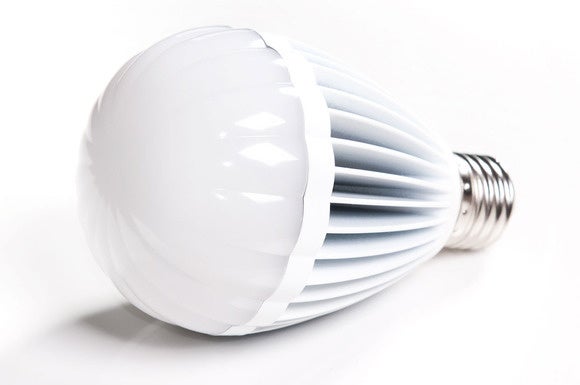 At a Glance
OORT SmartLED

TechHive Rating
You aren't misreading the chart below: With just 180 lumens of power, the OORT SmartLED is by far the dimmest bulb in this roundup, and I mean that in every sense of the term.
This bulky bulb is bigger than most, but at least the traditional shape lets it fit into most fixtures without too much trouble. As with the iLumi, it's a Bluetooth-only bulb and it requires no setup or pairing; the app does all the heavy lifting. OORT works without an account, though if you later opt for the OORT SmartHub (not yet available) for home automation, the bulbs can be integrated with that system. The hub can connect to your Wi-Fi router, giving you remote access to your lighting system.
Range is downright terrible—about 12 meters in my testing—but on the plus side (and unlike the iLumi), the app does realize if you're out of range and won't erroneously report that a turned-off bulb is actually on and vice versa. OORT also creates a Bluetooth mesh network where each bulb functions a node that can relay commands to nearby nodes, increasing the entire network's range.
Once the bulb is connected and the app is activated, it's a trivial matter to locate nearby bulbs and start interacting with them. But compared to other bulbs in this roundup, its configurability options are limited. A standard color wheel lets you set the hue, and an internal wheel alters brightness. Curiously, there's a separate button to activate "white light," but this white light is anything but. Rather, it's an extremely cool color that I can only describe as an uncomfortably bright purple. The app also features a button for setting color temperature of your white light, but this is grayed out and has no actual function. My best advice is for actually tweaking white light is by using the regular full-color wheel to approximate a useful white color temperature, although even that results in some iffy color tones.
Special modes include a handful of presets for reading and "love" (ahem), a sleep timer, a dance mode that cycles through random colors, a neat "snore" mode that raises and lowers the brightness in regular intervals, and a flashing/slow strobe setting. A simple timer system is also included. Dimming is smooth, but the bulb isn't really bright enough for dimming to matter much anyway.
The OORT SmartLED has a number of limitations, but the biggest remains its sheer lack of brightness. At 180 lumens, it's the incandescent equivalent of a 15-watt bulb, which is less power than a typical refrigerator light bulb offers. In a home environment, a bulb like this is really suitable only for accent lighting, at best.
This story, "OORT SmartLED review: This is one dim bulb" was originally published by TechHive.
At a Glance
OORT SmartLED

TechHive Rating

A big bulb doesn't mean big light output: This dim unit trades brightness for a rock-bottom price tag.

Pros

Cheap
Super-easy Bluetooth setup
Some special modes make it fine as a party bulb

Cons

Not bright enough for use as a legitimate lighting device
Very short wireless range
App needs refining with usability in mind
Shop Tech Products at Amazon
Popular on ITNews
Where can I find Pikachu? More than one Pokémon Go map promises to help you find rare Pokémon—and they...
Here's everything you need to know about Apple Pay and its ins and outs, plus an up-to-date list of...
These graphically intense PC games crank the eye candy to 11—and make your PC sweat while they're at...